Initially, Big Little Lies was planned to be just a limited series. But, this HBO series got so better and intriguing that its finale left watchers wanting way more of it. The fans loved the Monterery moms and their story. HBO has officially announced that the season 2 is on its way with seven new episodes. (Check: Better Call Saul Season 5.)
Let's check out what has been confirmed so far. Here's everything that is officially revealed and known to the public. So, what are you waiting, scroll the page and get going.
1. Big Little Lies season 2 release date is 9th June 2019. The fans have been waiting for so long. Now, their wait is over as the series is going to be premiered soon. This announcement was made at the 2019 TCAs in February 2019.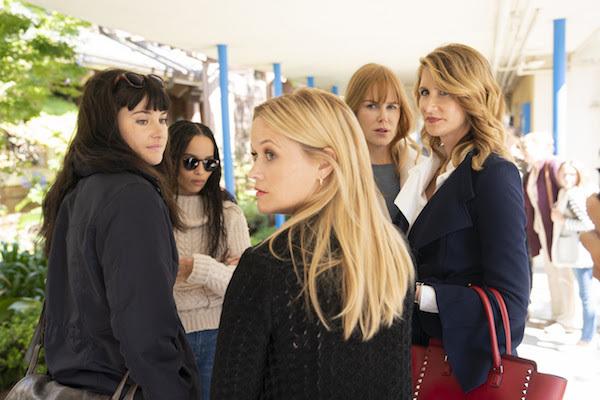 2. The first look photos have been released and they are intense. It seems that in almost all of these pictures, there is some kind of confrontation or people are having some sort of big realization moment.
3. The teaser is too good. It is very entertaining, and everyone is featured screaming a lot. You shouldn't miss Meryl when she throws the epic shade. So, it seems quite obvious that the fans will have a fantastic time watching her.
4. The show, now, has its own Instagram account. So, we can hope that they would be posting hints about the upcoming season. As of now, there are videos, still, and gallery posts with casts' names. One of the posted photos spells – 'new lies'.
5. The show has got a new director. Earlier, Jean-March Vallee directed all episodes of season 1. He decided not to return as, according to him, it will break a beautiful thing and spoil it. Andrea Arnold has replaced him now. She has helmed episodes of Transparent and I Love Dick as well as films like Wasp.
6. The OG members of the Monterey Mom squad will reprise their roles. Reese Witherspoon and Nicole Kidman will return as executive producers. Actors Zoe Kravitz, Laura Dern, and Shailene Woodley will also return.
7. The author of the book Big Little Lies, Liane Moriarty has also contributed to the season 2's story. However, Morarity has never published the book's sequel. The next installment will be based Moriarty's newly written story. David E Kelley, the showrunner of season 1 and writer will also write the new episodes.
8. It's not confirmed if Alexander Skarsgard will return or not. He won an Emmy, a SAG Award, and a Golden Globe for his character portrayal of Perry. His character also turned out to be a victim of a fatal stairway accident. Even if he is dead, he may appear in flashbacks or in his widow Celeste's nightmares. On being asked, Alexander also said that he doesn't know his character is actually dead.
9. Meryl Streep will play the mother of Perry. She will have a lot of questions about her son's accident, and possible fatality. We got to see a sneak peek of Mary Louise Wright – Perry's mother with Celeste's darling boys.
10. Mary and Madeline will have a sort of showdown. In August 2018, the characters were in a scene involving an ice-cream cone in Los Angeles. Madeline was hurling the cone at Louise. Is Madeline warning her in this way? Or does Louise get too far in her personal investigation?
11. We will get to see Bonnie's parents. Instead of Zoe's real parents Lenny Kravitz and Lisa Bonet, it will be played by Martin Donovan and Crystal Fox. The latter will play Martin and Elizabeth respectively.
12. In February 2018, we got to know some basic plot points regarding the upcoming season. It includes Reneta who will face some challenges in her marriage.
13. The death of Perry will remind Bonnie some unsavory memories for her. As per the Deadline report, it has something to relate to her past. She would be struggling with something she did to Perry in the past.
14. Actor Douglas Smith will come on-board, and play Corey Brockfield who is an aspiring marine biologist and Jane's coworker. The Canadian actor has worked in TNT series The Alienist, CSI: Crime Scene Investigation, and Big Love. No official images of his character are available yet.
15. As per the report of ABC News, the president of programming for HBO – Casey Bloys has confirmed the pay raises for the cast. It was confirmed in April 2018. It has been a result of the Time's Up Movement.
According to a report of THR published in January 2018, Reese and Nicole will earn $1 million per episode on season 2. In season 1, they received $250,000 to $350,000 per episode. They are also the producers of the show.
16. Otter Bay Elementary will get a new teacher in form of Mo McRae in season 2. He will join the show as Michael Perkins. He causes a panic attack to Renata's daughter after a lesson on global warming. HBO has also confirmed that PJ Byrne will reprise his role. Also, Poorna Jagannathan will join to play a new character named Katie Richmond.
Denis O'Hare will have a recurring role in the next season of Big Little Lies. O'Hare will play Ira Farber. In 2019, he will also be seen in the adaptation of The Goldfinch along with Nicole Kidman, Sarah Paulson, and Ansel Elgort. He was recently seen on The Good Fight and This is Us.
17. The production has been wrapped back in August 2018. Everyone is ready for a strong second season.
18. Irrespective of the number of seasons that HBO may order, Moriarty and Nicole will continue to work together beyond Monterey. In July 2018, Nicole and producer Papandrea purchased the film and TV rights to Moriarty's upcoming book, Nine Perfect Strangers. It will be released on September 18 this year.
19. Irrespective of what the future beholds, BLL creator and executive producer Kelley has told that they would like the closure with season 2. Nicole has other ideas. On being asked about the possible third season, she said that they have no plans for it.
This is it for now. We will update with the latest developments.