Directed by Nitesh Tiwari, Chhichhore saw a little drop in its collection of day 8 (2nd Friday) at the box office. It is the due to the release of a new Bollywood movie, Dream Girl starring Ayushmann Khurrana which has got a good buzz around it. Chichore is a college drama. (Check: Dream Girl Collection.)
Chhichhore stars Sushant Singh Rajput, Shraddha Kapoor, Varun Sharma, and Naveen among others. The film is going steady at the BO. Despite getting good reviews from the critics, the film opened to just Rs 7.32 crores. After that its collection increased to Rs 12.25 cr on Saturday, Rs 16.41 cr on Sunday, Rs 8.10 cr on Monday, Rs 10.05 cr on Tuesday, Rs 7.20 cr on Wednesday, Rs 7.50 cr on Thursday, and Rs 5.32 cr on Friday.
Its collections dip on 2nd Friday due to the release of Ayushmann starrer Dream Girl. However, it still made Rs 74.17 cr in the first 8 days of its release at the box office. Dream Girl has got a better start, thus it will be giving tough competition to Sushant Singh Rajput film in every way possible.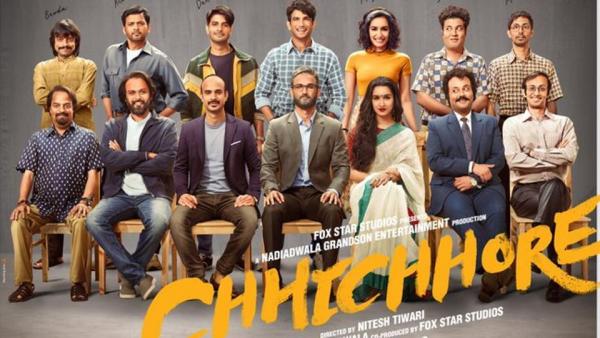 Chhichhore is about a group of college mates who reunite after one of them faces a tough time in his middle ages. The film is narrated in two parts. In first, they are shown as young college students. In the second part, they are shown in their middle ages. The positive word of mouth has helped the film to grow its business.
Chhichore is getting towards a HIT status and eyeing Rs 100 cr mark at the same time. It dropped around 30% on day 8 compared to day 7. The drop was around 15-20% compared to day 1. It seems to be aiming towards Rs 25 cr in its second weekend. It is expected to cross Rs 90 cr mark on 2nd weekend, and may cross Rs 100 cr by the end of its week 2.
So, it is very much likely to attain the status of SUPER HIT, but it will be interesting to see if it can achieve the status of a blockbuster film or not. Made on a medium budget of Rs 65 crores, Chhichhore has already collected around $1.5 million (~Rs 11 cr) from international markets by the end of weekend.
Chhichhore 9th Day Collection – Rs 5 cr (early estimates)
Chhichhore 9 days box office collections – Rs 85 cr (to be updated)
Speaking of its 9th day, Chhichhore started on a similar note as of yesterday. Thus, it is likely to earn around Rs 5 cr today.