Dead to Me Season 2: Jen and Judy seem to be on their way to get their things done for real. Recently, we were able to come across an official announcement by Netflix which revealed that the second season of 'Dead to Me' would premiere on the 8th of May. (check: Cobra Kai Season 3.)
All of its followers have been eagerly looking forward to its second installment just after the makers of this dark comedy series dropped its first season on Netflix. So, the curiosity of the fans must be relieved by now because its comeback is now assured officially.
To refresh the memories of the readers, in the beginning of the first season of 'Dead to Me', we saw Christina Applegate as Jen Harding whose husband had just passed away recently and she was grieving over it while recalling all of her sweet memories with him.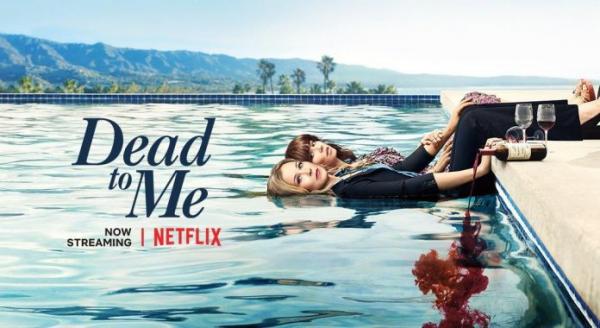 When she was in a support group to overcome his loss, she came across a woman named Judy Hale whose role is played by Linda Cardellini. Both of these women were instantly attracted to each which finally led to the development of a new and unique kind of relation of 'friendship' between them.
Things got so intense that Jen even considered asking Judy to come at her place to live there with her family. This is the time when a number of hidden and unbelievable secrets between them all starts getting revealed.
This dark comedy Netflix series is filled with plenty of suspicious, emotional and extreme twists and turns. The show has dealt with a number of kinds of different reviews, whether they are for support from the normal viewing audience or in criticism from the critics.
As the time for the release of its second season is approaching nearer, we would like to tell the readers each and every major detail we know about the upcoming season of this superb series which was even nominated for the Golden Globe awards. So, here is a spoiler alert for the readers.
Is it possible for the second season of the show to actually make it out soon?
Last year, when a Netflix FYSee panel was conducted on 3rd June, the giant streaming platform made an official announcement to confirm the renewal of 'Dead to Me' with a brand new season.
This Deadline report makes it clear that the second season of 'Dead to Me' should be out anytime soon.
Dead to Me Season 2 Release Date: When will it premiere?
Recently, on the 10th April, its very first official teaser was dropped on Netflix. The release date for the second season was also disclosed with it which turned out to be 8th May 2020.
Dead to Me Season 2 Cast: Which characters are returning?
Also in the same FYSee panel of Netflix, it was also confirmed officially that both Christina Applegate and Linda Cardellini have been signed again with a contract for the second season of 'Dead to Me' which sounded much obvious from the beginning itself because the show is actually based and revolves around the lives of these two main protagonists only.
To surprise the fans, we would like to tell you that recently, we also came across a Instagram post from Linda herself which claimed that they were already done with the shooting. The thing about which we are not sure for now is whether James Marsden would return as Steve Wood in the upcoming season or not?
Dead to Me Season 2 Spoilers
The ending of the final episode of the first season was really a great kind of cliffhanger for a series. Jen was finally able to discover the identity of the real culprit behind her husband's death which shockingly turned out to be none other than Judy.
Just after it we saw a scene in which she could be seen with a gun in her hand and she was standing over the 'dead' body of the ex-fiancé of Judy i.e. Steve.
Until the last month of May in the previous year, Liz Feldman who is the creator of this series was not actually certain if she would receive a proposal to work on the next season of 'Dead to Me' or not? Still in spite of this statement, she already had some pretty awesome ideas in her mind for the future of the show.
In an interview with the Hollywood Reporter, she made a statement that the viewing audience of 'Dead to Me' might not actually know clearly if it was 'Jen' who shot 'Steve'. She also revealed that just like the rest of the show, things might not really go like the way that they might sound to be.
If we consider normally, it seems that we can again look forward to more intense dark humor and sudden turns in the really strong and complicated type of relation of 'friendship' between Jen and Judy which was the main highlight from the first season.
Liz further discussed with the Entertainment Weekly that all she could tell the viewing audience for then is that they would get to explore the further stages of the bond between the two leading women protagonists in the upcoming season. She wanted to give rise to the circumstances in which the ups and downs in their relation are settled again.
They should be left with no other way but to continue doing their duties to keep their friendship because eventually they would be more dependent on each other in one way or another than before like in the initial parts of the first season.
While the Los Angeles Times were interviewing Christina, she told them that more complicated and interesting things which she never got to do in her acting career were already kept aside and saved by them for the second season. According to Applegate, the upcoming season would be packed with more dramatic situations than before.
Dead to Me Season 2 Trailer