Even after the death of Muzan, Tanjiro would have to keep fighting him in another way in the chapter 203 of 'Demon Slayer: Kimetsu no Yaiba'. Now, there would be a tough clash between the two different forces inside the body of Tanjiro to take over the control over him. (check: Black Clover Chapter 248.)
One of these two forces is the Muzan's conscience and feelings which the demon made Tanjiro's body absorb from him when he realized that he would no more survive after the sunlight strikes his Giant Baby form. Therefore, the desires and mindset of Muzan did occupy a place in Tanjiro's body.
When the sunlight touched Muzan's giant baby from he told himself and assured himself that though, all of his body would vapourize in the thin air soon but the conscience which arises from his ideology would live forever and would be inherited by Tanjiro.
Demon Slayer: Kimetsu no Yaiba Chapter 203 Release Date
To bring back Tanjiro to life, he finally injected all of his remaining strength and powers into him. This newly upgraded and changed Tanjiro is supposed to carry on his ideology and continue doing all the evil works which have been planned ealier by the latter. Muzan has high expectations from his successor Tanjiro.
The thing that sounds quite shocking to everyone is that Muzan is of the opinion that Tanjiro would gradually become a 'better' demon than even him after he takes his position.
The logic behind this is that Tanjiro would a able to exceed the limits of a demon because he is not supposed to be harmed by the sunlight which is generally the most critical weakness of a demon.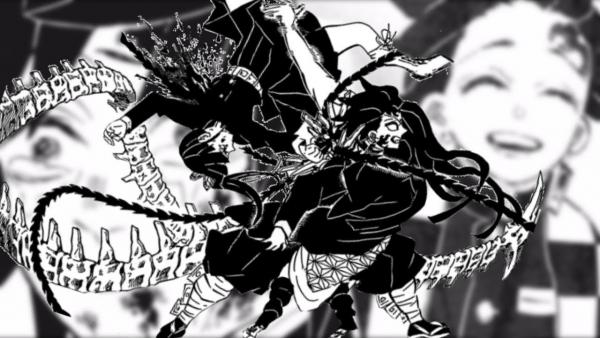 If he is really not able to overcome this demonic entity which is residing in his mind, then, later soon he would actually become like Muzan who kills the demon slayers which also include his beloved friends. It is obvious that this conversion of Tanjiro into a true demon is not at all something positive for all the other members of the 'Demon Slayer Corps'.
Sadly, he seems to be on his way of becoming like a one complete demon. It appears that his demonic personality has started to grow more intense slowly because he was really not able to identify his friends Giyu, Inosuke, and Zenitsu and started attacking them all.
We should also understand that it would not be that much easy for this demonic entity to take over his body without any struggle. Tanjiro always had a strong will power to resist any kind of demonic activity which also made him fight them for most of the time in his entire life till now.
It is very certain that he would do the same thing with this demonic entity in his mind which is trying to control him in the chapter 203 of 'Demon Slayer: Kimetsu no Yaiba'.
To support this belief, we would like to remind the readers that Tanjiro could already be seen struggling to resist this transformation in the previous chapters of the manga 'Demon Slayer Kimetsu no Yaiba' which could be found on the Mangaplus. Zenitsu was able to notice that Nezuko was not actually injured by Tanjiro.
This observation of him should be more than enough to prove the fact that this demonic nature inside him was still in its initial stages.
To our relief, the drug that can possibly reverse his condition and turn him back into a human has already been injected in his body. This drug is supposed to start showing its results and cure the condition of Tanjiro to restore him back into a human in the chapter 203 of 'Demon Slayer: Kimetsu no Yaiba'.
Disappointingly, the chapter 203 of 'Demon Slayer: Kimetsu no Yaiba' would not be able to make it in the usually expected time period but would make us wait more. The publication of the manga would be put on a hold for the next week. It implies that the upcoming installment of manga should be out on the 26th April.