Dogs are considered to be the best friends of humans. So, on the occasion of International Dog Day, we have brought you selected top and best quotes about dog. IDD is observed on August 26 every year. The event encourages dog ownership of all breeds, irrespective of their pedigree. (Check: Independence Day Quotes.)
This day is all about all types of dogs, be it mutts, mixes, pure breeds, or pooches of every kind possible. The silent creature makes us happy, and it is also evident by many scientific studies. According to a research paper published in ScienceDirect, when humans interact with dogs, the levels of oxytocin (a relaxing and stress reducing hormone in humans) increases in humans.
Today is a special day to celebrate with man's best friend for all the joy and love they give. You can go for a special walk, click pictures, make a custom photo album or post them onto social media on the occasion of National Dog Day. Along with quotes about dogs, here we also have some captions too.
Dog Quotes, Captions, Messages & Sayings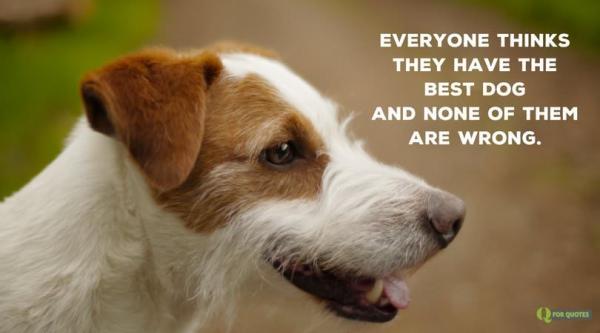 Funny Dog Quotes
"Outside of a dog, a book is a man's best friend. Inside of a dog it's too dark to read." – Groucho Marx
"My fashion philosophy is, if you're not covered in dog hair, your life is empty." – Elayne Boosler
"No one appreciates the very special genius of your conversation as the dog does." – Christopher Morley
"Dog is God spelled backward." – Duane Chapman
"Scratch a dog and you'll find a permanent job." – Franklin P. Jones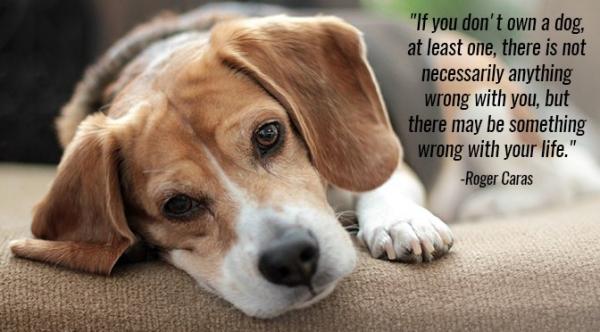 Cute Dog Quotes
"A dog is the only thing on earth that loves you more than you love yourself." – Josh Billings
"No matter how you're feeling, a little dog gonna love you." – Waka Flocka Flame
"There's a saying. If you want someone to love you forever, buy a dog, feed it and keep it around." – Dick Dale
"Actually, my dog I think is the only person who consistently loves me all the time." – H. G. Bissinger
"There is no faith which has never yet been broken, except that of a truly faithful dog" – Konrad Lorenz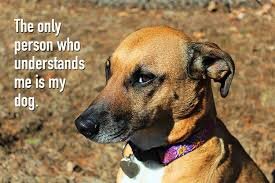 Dog Quotes Inspirational
"Money can buy you a fine dog, but only love can make him wag his tail." – Kinky Friedman
"The dog is the perfect portrait subject. He doesn't pose. He isn't aware of the camera." – Patrick Demarchelier
"It's not the size of the dog in the fight, it's the size of the fight in the dog." – Mark Twain
"The love of a dog is a pure thing. He gives you a trust which is total. You must not betray it." – Michel Houellebecq
"You know, a dog can snap you out of any kind of bad mood that you're in faster than you can think of." – Jill Abramson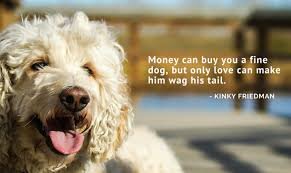 I Love My Dog Quotes
"A dog will teach you unconditional love. If you can have that in your life, things won't be too bad." – Robert Wagner
"The bond with a true dog is as lasting as the ties of this earth will ever be." – Konrad Lorenz
"Before you get a dog, you can't quite imagine what living with one might be like; afterward, you can't imagine living any other way." – Caroline Knapp
"Everybody should have a shelter dog. It's good for the soul." – Paul Shaffer
"The poor dog, in life the firmest friend. The first to welcome, foremost to defend." – Lord Byron
Loss Of A Dog Quotes
"Dogs' lives are too short. Their only fault, really." – Agnes Sligh Turnbull
"If there are no dogs in Heaven, then when I die I want to go where they went." – Will Rogers
"You think dogs will not be in heaven? I tell you, they will be there long before any of us." – Robert Louis Stevenson
"When you adopt a dog, you have a lot of very good days and one very bad day." – W. Bruce Cameron
"If I have any beliefs about immortality, it is that certain dogs I have known will go to heaven, and very, very few persons." – James Thurber
Dog Instagram Captions
"The average dog is a nicer person than the average person." – Andy Rooney
"The more people I meet the more I like my dog." – Unknown
"The dog lives for the day, the hour, even the moment." – Robert Falcon Scott
"If you want a friend, buy a dog." – Kevin O'Leary
"I just want to be in my sweats, walk my dog, watch TV and eat pizza." – America Ferrera
Puppy Quotes
"My little dog – a heartbeat at my feet." – Edith Wharton
"Happiness is a warm puppy." – Charles Shultz
"A dog may be man's best friend, but a child's best friend is a puppy." – Unknown
"Whoever said you can't buy happiness forgot little puppies." – Gene Hill
"If it wasn't for puppies, some people would never go for a walk." – Unknown