DC Universe seemed to have much faith in Doom Patrol because it had announced it even before the series, Titans, that inspired it had released. The announcement came with a synopsis. It seems to give a pretty much idea about the spin-off series. (Check: Detective Pikachu 2 Release Date.)
The team members of Doom Patrol includes people who suffered horrible accidents giving them superhuman abilities, but also left them disfigured and scarred. The Chief brought the traumatized and downtrodden heroes together and gave them a purpose for life. He led them to investigate the weirdest phenomena in existence, and to protect Earth.
The Doom Patrol is a part support group-part Super Hero team. It's also a band of super-powered freaks who wants to fight for a world that wants nothing to do with them. The story picks up after the events of Titans. Cyborg invites these reluctant heroes for a mission hard to refuse, but with a warning hard to ignore.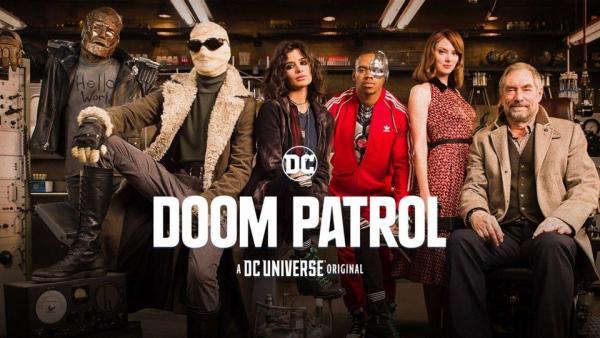 The showrunner Jeremy Carver says that it's a group of reluctant heroes who are used to live in isolation, until they are called upon to rescue a world that has long shunned them. The promotions included cool posters and intriguing teaser videos, creating a bold campaign that's enough to attract everybody's attraction.
DC Universe seems to have a strong confidence in the show as they have renewed it even before the conclusion of the first season. The filming for the same will start in June this year. Until then, here is everything that we know so far.
Doom Patrol 2 release date: When will it premiere?
The first season of Doom Patrol premiered in February 2019. DC seems happy with the viewers' reactions. Also, the show has established quite a well fanbase. Based on the arrival of the first installment, we can expect the second one in February 2020.
Doom Patrol 2 cast: Who will be coming back?
The Doom Patrol cast includes Elasti-Woman (April Bowlby), Cyborg (Joivan Wade), Negative Man (Matt Bomer), Crazy Jane (Diane Guerrero), and Robotman (Brendan Fraser). The team is led by Dr Niles Caulder aka Chief (Timothy Dalton). In the first installment, their big bad is Alan Tudyk as Eric Morden or Mr Nobody.
All of them are expected to return in some form. There are expectations, that we would get to see some new additions as well like Flex Mentallo, a muscle man inspired by bodybuilder Charles Atlas. Maybe, we could get to see Henry Cavill too.
Doom Patrol 2 plot: What will be the story?
As of writing this, it's quite hard to say anything about its upcoming plot. One thing is certain that the new season (two) will be weird. The first one has the odd tone that fans of Legion and Umbrella Academy may get it. But, the story takes us to infinitely stranger places.
The team may end up confronting Animal-Vegetable-Mineral man or Monsieur Mallah who is an evil French militant revolutionary homosexual gorilla who is in love with a disembodied brain in a jar. A lot of material is there that is to be seen.
According to Carver, the show is showing different elements/versions of the Doom Patrol from the years. From the Silver Age, the show brought up the Celsius and Lodestone characters. We will get to see other characters from different time as well such as Danny the Street, along with the Beard Hunter.
Doom Patrol 2 trailer: When will it air?
The first full trailer is expected to land around February 2020. Before that, DC Universe may come up with first look posters, some teasers, etc. We are expecting at least a tease at New York Comic Con this autumn. Until then, you can keep enjoying the first season of Doom Patrol.
The page will be kept updated, so don't forget to bookmark and visit again.