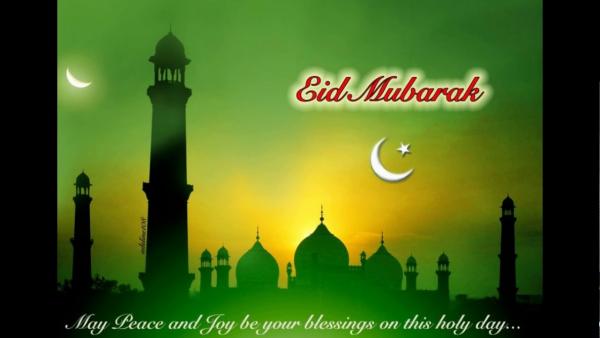 Bakrid 2019 is going to be celebrated on August 11 and 12. The dates differ due to the difference in moon sightings. So, we bring you the collection of some of the best Eid ul Adha wishes, Bakra Eid Mubarak SMS messages, quotes, greetings, status, etc. (Check: Eid Mubarak Images.)
Eid al-Adha is also known as the 'festival of sacrifice'. It is one of the two most celebrated Islamic festival around the world. It is also one of the most important days for the Muslim community as it marks the supreme sacrifice of Prophet Ibrahim or Abraham.
The legend says that the God challenged the said Prophet to prove his faith in Him. So, he decided to sacrifice something he held very dear to him. His steadfast faith in God resulted him to offer his 13-year-old son, Ismail, for sacrifice.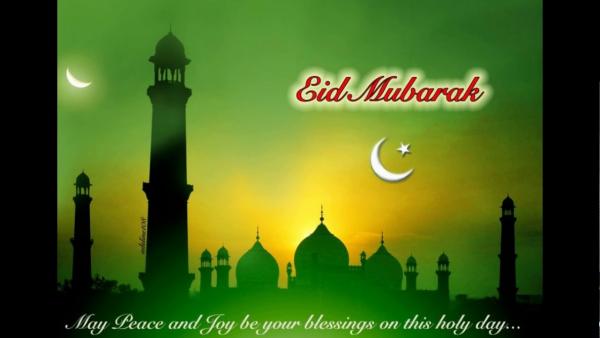 The legend continues to say that the God moved by Prophet's willingness to prove his devotion to Him. As a result, the God ordered the angel Jibra'il or Gabriel to Ibrahim's son with a goat. So, since then, the Muslims celebrate Eid-al-Adha by sacrificing male goats.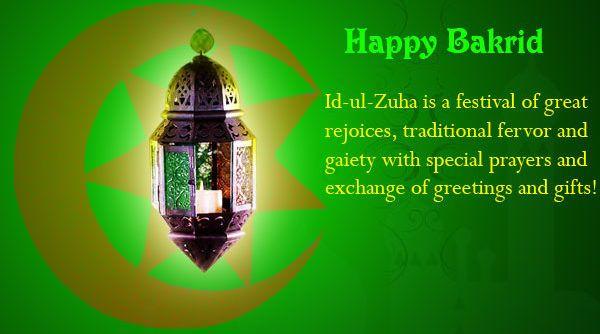 It is also known as Eid ul Azha, and it coincides with the completion of the annual holy pilgrimage, Haj. On this day, Muslims offer special Eid prayers, sacrifice livestock, visit relatives, relish sumptuous dishes besides dressing up for the occasion, and share greetings, etc.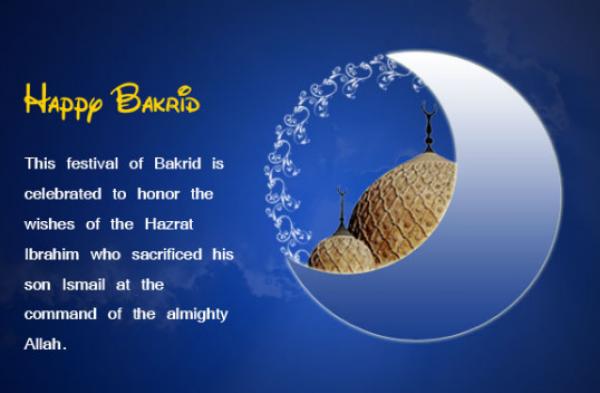 Happy Bakrid Wishes: Eid Mubarak SMS Messages, Bakra Eid al Adha Quotes Greetings, Status for WhatsApp & Facebook
May the festival of Eid bring lots of joy and happiness into your life. Have a blessed Eid al adha.
Eid Mubarak! May Allah grant all your wishes and accept your sacrifice. May he fulfill all your desires in life. I wish happiness for you and your family today and always.
On Eid al Adha, here's wishing that all your prayers are answered. Have a blessed Eid al-Adha!
Take a break from daily grind of life and celebrate Eid with us. Eid Mubarak!
May Allah bless you the with the gifts of kindness, patience, love and truthfulness. May you get what you are seeking. Eid al adha Mubarak.
Life is short and so is Eid! Celebrate both with full pomp and enjoy every moment. Thinking of you on this Eid.
May the magic of this Eid bring lots of happiness in your life and may you celebrate it with all your close friends and may it fill your heart with wonders. Eid Mubarak!
Eid Mubarak! May this joyous occasion bring you loads of joy and may all your wishes come true Wish you and your family a happy Eid-al-Adha.
May you get peace, prosperity and happiness on this day. Eid Mubarak!
"Neither the flesh nor the blood (of the sacrificed animal) reaches Allah;It is your piety that reaches Him "-The Holy Qura'n. Eid-al-Adha Mubarak!
May this Eid brings you joys unlimited, may all your wishes come true on this holy day and may you and your family be blessed by the grace of Allah. Eid al-adha Mubarak!
"And He has made me blessed wherever I am" -The Holy Quran . Eid-al-Adha Mubarak!