Jack Ryan has been renewed for a season 2 at Amazon. Its first installment premiered on August 31, 2018. It was officially renewed on April 24, 2019. The series stars John Krasinski, Wendell Pierce, Abbie Cornish, John Hoogenakker among others. (Check: The Walking Dead Season 10.)
In the second season of Jack Ryan, there will a total of 8 episodes once again. The said installment is currently in the production stage, and the shooting will take place over four continents, one of which is South America. So, until it arrives, here's everything that you need to know like its release date, cast, spoilers, plot, trailer, etc.
Jack Ryan Season 2 Cast: Who will return?
The series will feature Michael Kelly (House of Cards) as Mike November, a smart and seasoned CIA lifer and field officer. He will be a co-worker of Jack. Based on Kelly's acting archetype, it will be interesting to know how he will betray our hero. Noomi Rapace (Girl with the Dragon Tattoo) will join as a series regular.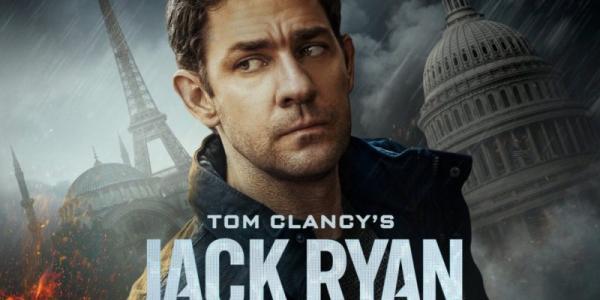 She will play Harriet 'Harry' Baumann, a highly capable, intelligent and charming German Intelligence agent, who crosses paths with Jack in South America. Other cast includes Jovan Adepo (The Leftovers), Jordi Molla (Genius), Cristina Umaña (Narcos), and Francisco Denis.
As per the report, Adepo will play Marcus, a former special crewman in the Navy now repairing boats whose life takes a turn when an old colleague offers him a critical position in a covert operation; Molla will play Nicolas Reyes, the powerful and charismatic leader of a South American Country.
Umaña will play Gloria Bonalde, a woman who fearlessly balances her career in politics with the demands of motherhood; and Denis will play Ubarri, a senior government official in a South American country. Wendell Pierce will reprise his role as Jack's boss, James Greer.
Game of Thrones actor Tom Wlaschiha will return for a recurring role of Max Schenkel, a foreign operative with mysterious motivations. He will cross paths with Jack Ryan during a mission in South America. He famously began every sentence in which he's the subject with a "a man".
Jack Ryan Season 2 details
A DGA award-winning director, Dennie Gordon is going to direct three episodes of Jack Ryan 2nd season. She has experience from known Amazon series and other tv shows like Goliath, Power, Legion, Empire, Kingdom, Bloodline, and Hell on Wheels.
The episodes of season 1 were directed by Patricia Riggen, Daniel Sackhelm, Morten Tyldum, and co-creator Carlton Cuse.
The official synopsis for JR season 2 reads as follows:
In Season Two, Jack Ryan confronts the forces in power in a dangerous, declining democratic regime in South America.
The co-showrunner Carlton Cuse also said that the team is thrilled as the first season got so much enthusiasm. Cuse continued to say that they are extremely happy to be able to continue to work with Amazon and to be filming to tell the next great Jack Ryan adventure.
If you don't know, a lot of early momentum had to do with actor John Krasinski. He is coming off the horror movie, A Quiet Place, for which he served both as the star and the director alongside his wife Emily Blunt.
The film proved to be a hit, and established Krasinski as action/horror Renaissance man. Amazon locked him in for another season as soon as he was available. The President of producing studio Paramount Television, Amy Powell also appreciated Krasinski. She said that team is excited that he is their Jack Ryan.
Apart from it, Amazon has got another reason for JR season 2 renewal. It was the 4000% increase in Prime Membership in the aftermath of its Super Bowl ads. It necessitated a boost in original content.
as for Jack Ryan s2, the things will stay put through the course regarding the personnel. John Krasinski will be its executive producer, and the showrunners Carlton Cuse, and Graham Roland will also be its executive producers.
The JR second season is in production and the shooting takes place in unspecified locations in Europe, South America and the United States.
Jack Ryan Season 2 Release Date
UPDATE: The second installment premieres on November 1, 2019.
There has been no official word on the release date for JR second installment yet. The first season premiered on August 31, 2018. So, another late summer or early fall release seems plausible. You should also keep in mind that it is a rather ambitious series, so the filming could take a bit longer than usual.