The Kasauti Zindagi Ki 2 episode begins with Sonalika grabs Ronit and shouts that Anurag was sitting in the car. Sonalika hits him that Anurag is in danger because of him. Sonalika asks Ronit to find Anurag's location and call her soon. Sonalika sits in her cat and leaves from there. (Check: Kasautii Zindagii Kay 2 Written Update.)
Prerna calls Anurag and says that she know all the routes so he should tell her about his location. She warns him that if he didn't tell her that she won't leave him. She horns and Anurag hears the voice. Anurag questions where is she? Prerna says that if he didn't tell about his location, then he won't see her.
Anurag tells his location to Prerna and asks her to stop crying. She gets emotional and is crying after recalling her memories with him. Anurag is crying after recalling every moment spent with Prerna. Prerna's car gets hit on a bad road and he hears her voice. He questions what has happened?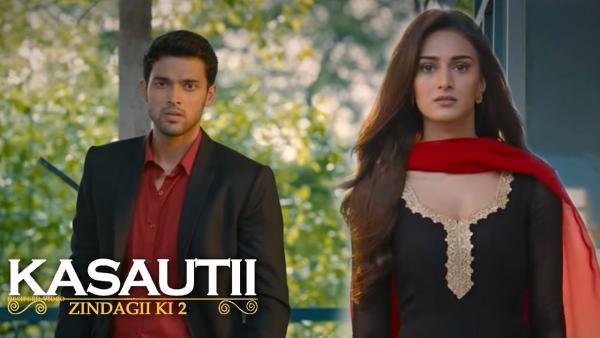 She says that she is fine and asks him what is he doing! He says that he is just talking with himself and she asks him to talk with her. Prerna recalls when Anurag left to bring the Chunnari for her. Prerna says that she did cheating in childhood and then he stopped talking with her.
She says that he should not have stopped talking. He apologizes that he wishes to change everything by going back in the past. Anurag says to Prerna that he likes her and she says that she knows it. He says that he doesn't think so that they will talk more in the future. She says that they will talk with each other.
He says that he feels for her and she stops him to talk only when they meet. She says that they will meet for sure. Anurag sees a truck coming towards him and changes his direction.
Veena talks with Shivani, Shekhar, and Suman that Prerna left by locking them in the house. Mahesh says that how will Prerna save Anurag! Suman says that Prerna Di will handle it. Veena says that Anurag is in the car which doesn't have brakes. Shivani asks everyone to stay calm as Prerna Di will save him.
Mohini hears everything and gets shocked. Mohini calls Anurag but his phone is busy. She thinks that all of them might be lying.
Anurag calls Prerna and she questions whether he is fine? Prerna is crying badly and Anurag says that he is fine as the call disconnected by chance. She says that she got scared thinking that something has happened. Anurag says that they have a weird connection as being friends, they love each other so much.
Prerna says that they have made this relationship with each other. He says that he is married to Sonalika but he has to tell her about his feelings now. He says that he wants to tell about his feelings but Prerna stops him.
Mohini tells about Anurag's car brakes failure to Nivedita. Mohini thinks that she is bad and so her son is facing the punishment. Nivedita tries to console her.
Mohini goes to check Anurag but clashes with Viraj. Mohini says that Anurag's car's brakes failed and the car in which Prerna has to sit, but he seated. Viraj gets shocked by hearing it.
Prerna says to Anurag to drive over the hill as car's speed slow over there. She says that she will come to help him and he can fall as friction will stop the car. She says that it is physics and it will work for sure.
Precap: Prerna comes in front of Anurag's car and both car's stuck at the hill point. Sonalika sees them and thinks that someone will die now!