The episode begins with Anurag comes to Anupam to apologize for his mistake. Anupam says that he doesn't see anyone other than Prerna. Anurag hugs Anupam and apologizes for it. Prerna looks at them, but Anurag looks at her. Prerna thinks that she should leave the house soon. (Check: kasautii zindagii kay 2 written updates.)
Mr. Bajaj thinks that Prerna might leave the house on her own. Mr. Bajaj calls Mr. Mehra and sends him a Mansion's photograph to get it ready within two days. Mr. Mehra thinks that Mr. Bajaj can never change as a person. Anurag gets upset after seeing Prerna's pictures.
Anurag keeps his phone there opening the camera accidentally. Mr. Bajaj comes to him and opens his secret that he hired a goon to make his outfit burn so that all the blame goes on Anurag. Anurag gets angry, why did he do this? Mr. Bajaj says that he is in love with Prerna.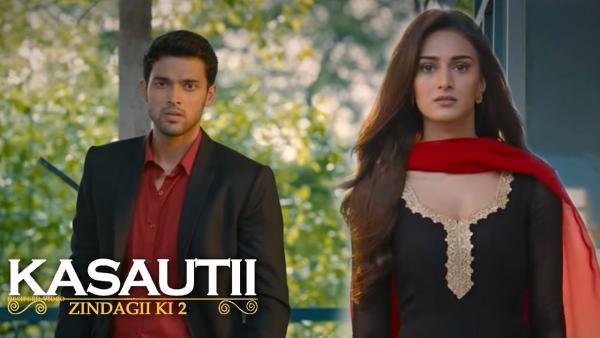 Prerna comes over there and Mr. Bajaj changes the topic. Mr. Bajaj holds Anurag's collar and Prerna asks him to stop. Anurag says to Prerna that Mr. Bajaj hired goons to get him attacked. Prerna asks Anurag to stop speaking a lie. Mr. Bajaj asks for proof and Anurag says that he will talk to Prerna when he finds proof and leaves from there.
Anurag looks at Tanvi coming towards him. Masi also comes there. Anurag leaves from there. Masi asks Tanvi not to go behind Anurag. Masi says to Tanvi that she should keep the family secrets within the family only. Anurag hears their conversation.
Prerna says to Mr. Bajaj that she loves Anurag only. Prerna says that Anurag always helped her even when they didn't like each other. Mr. Bajaj says that he knows about it and it is the reason why Mr. Basu is fine! Prerna says that he will not do anything in the future also to hurt Anurag. Prerna says that she is ready to leave the house.
Anurag recalls that he left his phone upstairs and goes to take it. Prerna says to Mr. Bajaj that they made a deal to marry him for saving Anurag's life. Mr. Bajaj says that he remembers the deal. Mr. Bajaj says that he will not leave him when he attacks him or his family.
Prerna says that Anurag is not wrong when he does anything like this. Mr. Bajaj questions Prerna whether she is supporting Anurag? Prerna says that Anurag's intentions were not wrong. Prerna says that she married him so that he helps her to give proof against Ronit. Prerna says that she sacrificed everything to save Anurag.
Prerna says that she will die if anything happens to Anurag. Mr. Bajaj agrees that he will not hurt Anurag. Anurag's phone starts ringing. Anurag also comes there to take his phone. Prerna and Mr. Bajaj leave from there.
Anurag takes his phone as Shivani is calling him. Anurag goes downstairs to meet Shivani. Shivani says that she was calling him, but he didn't pick it so she got worried about it. Shivani says that Prerna was staring at him when he was dancing. Shivani says that she has sent the video also.
Anurag says that his phone is on video recording and looks at the conversation between Mr. Bajaj and Prerna recorded on the phone. Anurag and Shivani gets shocked to know the reason why Prerna married Mr. Bajaj!
Precap: Anurag says to Mr. Bajaj that he has got to know everything with the technology. Komolika is shown returning!