Kasautii Zindagi Kay Season 2 8th January 2020 Written Episode Update: Anurag gets to know that Prerna was in his dream!
The episode begins with Sonalika shows a chunnari to Anurag. Sonalika questions whether he liked it? Anurag touches it and compliments that it is beautiful. Sonalika says that she brought it for Prerna from the temple.
Shivani comes to Prerna and she is crying badly. Shivani hugs Prerna. Prerna says that Anurag's eyes show his feelings for her, but he can't speak. Veena comes there and Prerna starts laughing with Shivani to change the topic.
Kasautii Zindagii Kay Season 2 7th January 2020 Written Episode Update: Anurag recalls some blurry memories!
Sonalika comes to Prerna and tells about the incident. Sonalika shows the chunnari which Anurag brought when he got attacked in the accident. Sonalika says that she showed the chunnari to Anurag but he doesn't recall anything. Sonalika says that the doctor also told her that Anurag can never recall his memory. Prerna says that it is just beginning and now she will start her steps towards Anurag.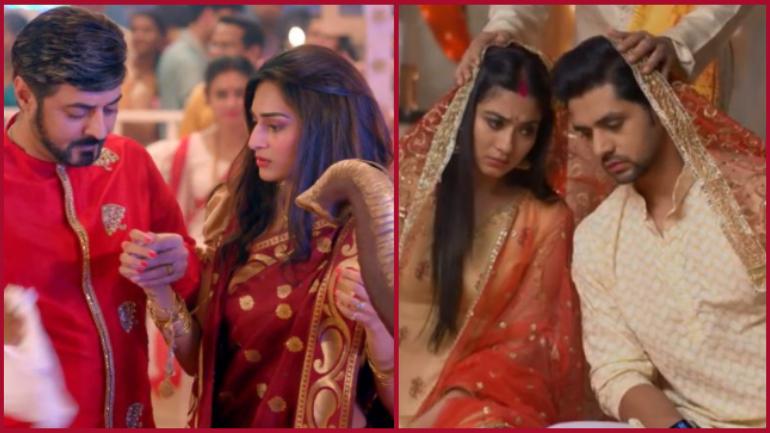 Mohini clashes with a servant and her clothes get bad, so she goes to change it.
Shekhar and Mahesh greet Moloy. Moloy questions Mahes about his cricket practice? Mahesh says that it is good. Viraj listens to them and comes there. Viraj says to Mahesh that he has his friend who is a cricket coach so he can recommend Mahesh to him. Shekhar says that he has already done so much for them. Viraj says that they are family now.
Prerna comes downstairs and everyone looks at her. Viraj's mother takes Viraj to sit with Prerna so that they can begin the rituals. Prerna is finding Anurag but he is not there. Anurag looks at Prerna from upstairs and starts staring at her. Prerna looks at him. Anurag comes downstairs and stands with Moloy. Shekhar performs the Tilak rituals with Viraj. The priest asks him to put Prerna's hand in Viraj's hand.
Anurag recalls his dream that Prerna is going away from him. Prerna asks him to stop her in his dreams. Anurag doesn't feel good and leaves from there. Moloy looks at him. Anurag think why he is getting feelings for Prerna? Anurag washes his face but still recalls Prerna.
Prerna starts finding Anurag. Moloy questions whether she wants anything? Prerna takes Anurag's name as he made all the arrangements so he should be here. Prerna says that she will bring him. Nivedita denies that she can't go and Sonalika goes to bring him.
Anurag thinks why his heart is not accepting Prerna's marriage! Anurag thinks to talk with Sonalika about it. Sonalika calls Anurag and he comes out to talk with her. Sonalika questions what is he doing here as everyone is waiting! Anurag thinks that she is angry, so he should not talk at the moment. Anurag says that he came to wash hands as it got dirty. Anurag thinks to talk with Prerna about his dream.
Prerna looks at Anurag. Veena thinks to make Prerna show that Anurag is not her. Veena asks Anurag to give the ritual's coin to Viraj and give Prerna's responsibility to him. Moloy thinks that Veena is doing for her daughter, but Prerna will get hurt by it. Anurag gives the coin to Viraj and looks at Prerna. Anurag takes Prerna's hand and put it on Viraj's hand. Anurag recalls his dream and stays quiet. Prerna thinks that she is getting separated from Anurag now. Anurag recalls when Prerna him to stop her in his dreams.
Precap: Anurag talks with Anupam that he is having feelings for Prerna. Shivani listens to it and taunts Komolika about it. Anurag asks Prerna to dance with him. Anurag dances with her and recalls some blurry memories. Viraj gets shocked seeing both of them!