The episode begins with Veena asks Prerna to stop thinking about Anurag. Prerna stays quiet and Veena understands her silence. Veena says that she would be happy if she would have changed her mind. Anurag comes into the office to meet someone. Viraj says that he will solve their publication's problem. (Check: Kasautii Zindagii Kay 2 Written Updates.)
Anurag gets happy after talking with him. Prerna comes to the office and the receptionist tells not to disturb Anurag sir today. Sonalika also comes there and Prerna stops her not to go inside Anurag's cabin. Sonalika asks her to bring her phone as Anurag has taken it. Prerna says that she works for Anurag only.
Viraj was leaving and Sonalika enters inside the cabin. Sonalika questions Anurag whether he was Viraj, the banker? Anurag agrees. Sonalika says to Anurag that Viraj is also alone like Prerna as his wife died. Sonalika says that they can be together and it will be amazing.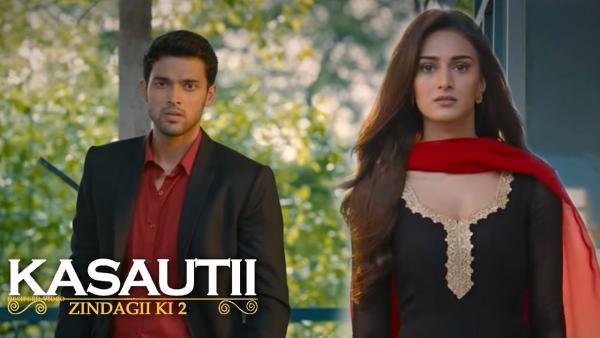 Sonalika says that he should find a good partner for Prerna if he cares about her. Sonalika says that Viraj will be perfect for her. Anurag says that he will come in some time and goes from there. Nivedita hears their conversation and comes to talk with Sonalika. Nivedita questions Sonalika why is she so much concerned for Prerna now?
Sonalika says that they should do things that they sometimes don't want. Sonalika says that she wants Prerna to get married and stay away from her husband. Nivedita says that it is impressive as she is doing so much in such a situation. Nivedita says that it is really good as she thinks so nice for Prerna. Sonalika says that she is like this a soft-hearted person.
Prerna gets unconscious and the glass falls from her hand. Viraj comes to her and makes her sit. Anurag also sees them. Viraj asks the servant to bring water for Prerna. Prerna says that she is fine. Viraj gives her a glass of water and she drinks it. She was about to pick the broken glass, but Viraj asks her not to do it as he will take it.
Anurag looks at them talking with each other and thinks about Sonalika's idea. Anurag calls Prerna. Shivani gets up and gives the phone to Prerna. Anurag disconnects the call.
Shekhar and Mahes get ready to leave. All of them hear some Dhol's noise. Anurag comes over there with the Dhol people playing it. Anurag stops the Dhol and asks them to leave and asks all the servants to keep the Shagun. Anurag says to Veena aunty that he has come to asks for Prerna's hand.
Everyone gets shocked to hear him. Shivani goes running to call Prerna and says that Anurag has come to asks for her hand for marriage. Prerna gets happy and runs to meet him.
Anurag says to Prerna that he has come to complete his promise. Anurag says that life is incomplete without a partner. Anurag says that he thinks that she understands him better and trust him. Anurag says that people will judge his decision, but he wants her to trust him without thinking about people.
Everyone gets happy for Prerna. Anurag asks her to marry again. Prerna gets ready. Anurag shows Viraj's picture to Prerna and asks her to marry him. Prerna and everyone gets shocked after hearing him.
Precap: Anurag asks Prerna to marry Viraj. Veena says to Prerna that this is good for her. Prerna says that Anurag is her child's father who doesn't remember anything. Veena says that he will not recall anything. Prerna agrees to marry Viraj!