The episode begins with Anurag brings Prerna at her home in his arms. Veena and everyone get shocked to see them. Anurag says to Veena that Prerna got hurt so he has to bring her home. Veena questions Shivani whether Anurag has lost his memory or not? Anurag greets everyone over there. (Check: Kasautii Zindagii Kay 2 Written Updates.)
Anurag introduces Sonalika as his wife to everyone. Mohini calls everyone to talk with them. Mohini says that Sonalika saved her Anurag. Mohini says to everyone that no one will discuss Prerna and Anurag's relationship with Sonalika. Anupam denies that he doesn't understand this.
Moloy says that he also doesn't understand it. Moloy says that Sonalika should know everything. Anurag says that he didn't remember anything happened in the past two years. Anurag says that he is sad for Rajesh uncle as her father told him. Komolika looks at Rajesh's photo and gets happy that she killed him.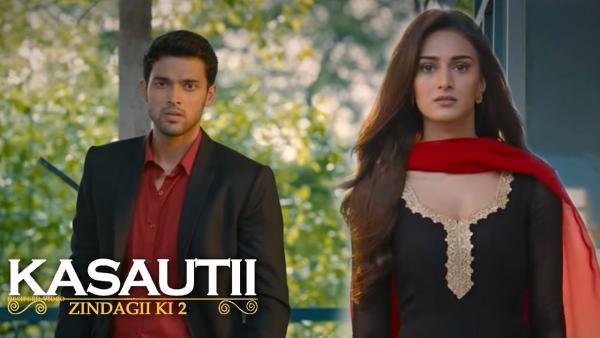 Anurag says to Veena that whenever she needs something so she can tell him. Veena leaves from there that she will come soon. Shekhar changes the topic that mom would be a missing father. Suman asks for tea or coffee from Sonalika and she answers for tea.
Suman asks from Anurag and Prerna says that he will take tea. Sonalika says that he will have coffee, but Anurag says that he likes tea. Sonalika asks for a washroom from Prerna and Prerna tells her about her room.
Mohini asks Anupam and Mohini questions can they give her a guarantee that if Sonalika gets to know about Anurag's love, then she will stay with him? Mohini says to Moloy that she sounds selfish, but she is a mother. Mohini says that no one will talk about Anurag's past story with Sonalika.
Moloy says to Mohini that he will tell all the truth when it would be the right time. Suman calls Shekhar and Anurag talks with Mahesh. Mahesh gets a message and he leaves from there. Prerna is with Anurag and Anurag smiles seeing her. Anurag says to Prerna that everyone tells him that she speaks a lot.
Anurag says that he knows she doesn't speak much. Prerna says that she speaks a lot but he doesn't speak so much. Anurag says that she thinks he is boring. Anurag says that it is bad for Sonalika as her husband is boring.
Veena is crying badly and Shivani tries to console her. Komolika hears Veena crying and goes to see them. Komolika recalls when Veena tried to slap her. Veena says to Shivani that she will keep away Prerna from Basu family. Veena says that she will leave with Prerna from here.
Shivani thinks that someone was listening to them and goes to check it but can't find anyone. Anurag looks at Prerna's leg and looks at her anklet. Anurag thinks that he has seen this anklet and Prerna takes her legs back. Prerna says that it is a common anklet. Prerna gets up, but gets hurt and Anurag holds her.
Prerna's wrist thread gets stuck in Anurag's watch. Prerna tries to remove it and Anurag thinks that this moment has happened before. Anurag questions Prerna whether something happened between them in the past two years. Komolika looks at them and gets angry to see them.
Sonalika's leg slips from there and she falls from the stairs. Anurag goes to take her and Prerna also gets up, but Anurag asks her to rest.
Precap: Anurag says to Prerna that he thinks she wants to talk something. Anurag talks with his family that he felt he had some connection with Sharma family!