The episode begins with Prerna holding Anurag's hand and making promises to live together. Anurag says that they will get engaged tomorrow in front of everyone. Ronit is finding Anurag and Prerna along with his team and takes a knife to kill them. Ronit stops a truck driver and ask him to drop him. (Check: Kasautii Zindagii Kay 2 Written Updates.)
Anurag and Prerna are walking on the road. Prerna looks at the truck and stops him after hiding Anurag so that it stops. Ronit looks at her from the truck and ask the driver to take her inside the truck. One kidnapper looks at police coming over there and informs Ronit. Anurag asks the driver to leave as they will go.
The police come to Anurag and Prerna to ask for any problem. Anurag question about the highway and ask for some help. The inspector says that he will send a taxi or car for them if he finds it. Prerna question why did he deny the driver? Anurag says that he was not getting good vibes from the driver.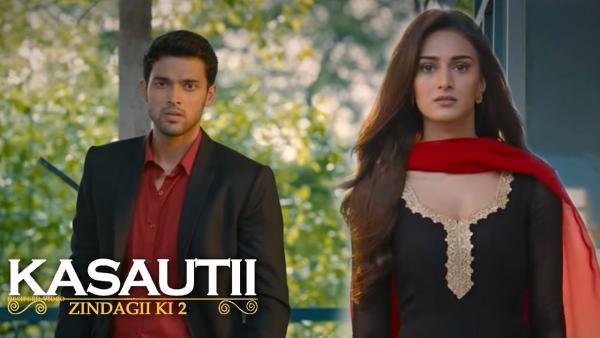 Anurag takes Prerna in his arms as she is tired. Anurag looks at a house and thinks to stay in it. Ronit gets down from the truck to catch Anurag and Prerna. Anurag and Prerna come to a cottage and both of them manages to sleep over there. Prerna was getting scared and Anurag comes to her. Prerna says that she is afraid of lightning and thunder. Anurag hugs her and sleeps.
Nivedita, Shivani, and Anupam are waiting to catch Ronit with the inspector. Mishka tried to call Ronit but his phone is out of reach. Mishka gets afraid that Ronit might have got alert as she is helping the inspector to find him. Nivedita consoles her that she can stay with them. The inspector asks everyone to go to their home as they will catch Ronit.
The inspector has traced Ronit's phone and leaves for location. Anurag wakes up and gets worried as Prerna is not there. He hugs her as he was scared of her. Ronit comes to them and takes the knife to kill them. Anurag comes in front of Prerna and gets fall down. Ronit was about to kill Anurag and Prerna got scared.
Prerna looks at Anurag as he has put a piece of glass on Ronit's stomach. Anurag recalls when he falls down to take the piece of glass. The kidnappers come to attack Prerna but Anurag holds them. Ronit gets unconscious and the inspector comes there. Anurag holds the kidnappers and Ronit runs from there. The inspector goes behind Ronit.
Anurag and Prerna come back home safely. Nivedita, Anupam, and Tapur get happy to see them. Anupam asks the servant to call Mohini and inform about Anurag and Prerna also. Mohini comes and hugs Anurag. Moloy also gets happy to see them. Anurag says to Mohini that Prerna is safe. Mohini doesn't ask about Prerna's health from her.
Anurag says that he has informed Veena aunty about them and she is coming soon. Veena comes there with her family and is happy to see both of them.
Anurag asks the servant to bring some sweet for everyone. Anurag tells everyone that he has got married to Prerna in the temple. Mohini says that it was not marriage as it happens in front of everyone. Anurag says that she is right so he will get married to Prerna in front of everyone. Mohini gets shocked to hear it and everyone is happy.
Precap: Mohini says to Nivedita that Prerna can't become her daughter-in-law. Anurag is inquiring about Mr. Bajaj!