The Kasauti Zindagi Ki 2 episode begins with Komolika questions Nivedita and Mohini what they were talking about? Nivedita says that they were praising her. Komolika thinks that she knew both might be bitching about her but she doesn't care as everything is under her control. (check: Kasautii Zindagii Kay 2 Written Updates.)
Anurag comes over there. Anurag says to Nivedita that if anyone wins the land in the auction, then they will face a loss as they already have the opposite land. He says that he will use the land for constructing a mall and it will be only for them. Nivedita says that he is already doing so much.
Komolika says that Anurag always plans well than anyone else. Anurag says that he thinks she can plan better than him also. Anurag receives a call and he goes to talk. Komolika comes to him. Komolika says that he has attained maximum advantage because of her plans.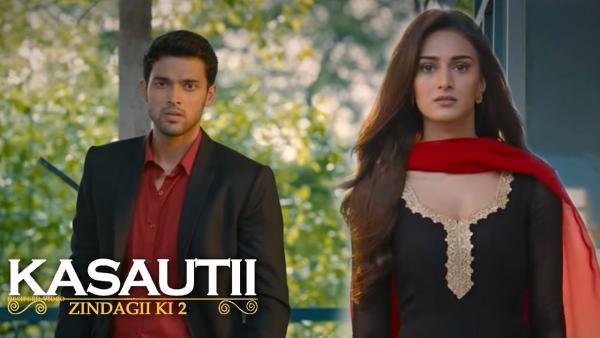 Anurag says that she is carrying excess makeup today. She says that she feels good as he noticed her so closely. Anurag doesn't give any attention to Komolika and goes from therewith Kaushik. Prerna has a keen interest in the project and reads the file. She receives a call from Mr. Bajaj.
Prerna says that she is too interested even after her last day's incident. Mr. Bajaj says that he can arrange the auction on a later day if she wants to take a rest. Prerna says that she doesn't want to take a rest to destroy someone. She makes a promise to him that she will create the profit in this deal without any doubt.
He thinks he loves her so much and can't even explain it to her. Anurag talks with Mr. Shaumik that he wants the project anyhow. Shaumik says that he is on his side. Anurag says that he will put a maximum of 20 crores bid and would easily get it on 25 crores.
Prerna and Anurag gets clashed with each other.
Anurag picks up her phone and apologize saying that he can fix it. Prerna recognizes his voice but thinks not to show her face before spoiling Anurag's dream plan. Kukki looks at Kaushik and runs behind him calling him a thief. Kaushik starts laughing at her after knowing that she has come for the auction.
She asks him to return her earring and tries to wear it but couldn't. Kaushik helps her wear it. Nivedita comes to the office and thinks to get a view on the auction live. The time for bidding begins at the auction. Anurag can't see Prerna over there. Anurag puts his first big on the land and other people also follow the bid.
Prerna releases her bid and creates difficulty for Anurag from buying the land. Prerna keeps the bid high but Anurag doesn't stops. Kukki apologize from Kaushik for shouting him as a thief but he denies to accept her apology. Komolika looks at Mohini praying in front of the Goddess and goes to her.
Komolika says that she should stop her drama as they know about Anurag's talent that he will get the land! Mohini says that she know about it but she gets peace after praying. The doorbell rings. Komolika asks Mohini to open the door and not let the servants do it.
Komolika's friend comes there and asks for Anurag. Komolika says that he has gone for his dream project.
Prerna puts the highest bid for 50 crores at the auction. Anurag gets angry and wants to find out who is behind the bid spoiling his dream project.
Precap: Prerna questions Anurag whether he is shocked after seeing her? Anurag says that he threw her out of his life. She says that it is her turn to snatch everything now!