The episode begins with Prerna and Mr. Bajaj goes to the temple. Prerna is crying and Mr. Bajaj gives her a tissue to wipe her tears. Prerna questions he will not ask the reason for these tears? Mr. Bajaj says that he already knew it since she told about her heart before.(Check: Kasautii Zindagii Kay (KZK) 2 Written Updates.)
Prerna says that he wants to marry her after knowing everything. Mr. Bajaj says that she has assured herself that her loyalties will remain for him after marriage. Mr. Bajaj says that he is impressed with her honesty and not showing any fake smile for the marriage. Prerna says that she will always love Anurag.
Mr. Bajaj says that he knows about it and didn't aspect any romantic relationship between them. Mr. Bajaj says that he believes she will loyal to him. They reach the temple for the wedding. Anurag gets ready for the marriage.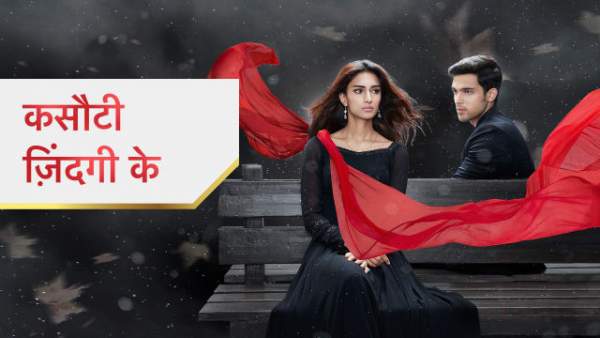 Anupam compliments him and Anurag asks him to bring someone from Nivedita or mother for putting a black Tikka to protect from any evil eye. Anupam himself puts it on Anurag. Prerna recalls her memories with Anurag. Pandit Ji ask both the groom and bride to sit for the wedding. Both of them sits down. Pandit Ji begins with the wedding rituals.
Ronit comes to his friend's house. Ronit's friend warns him that it will be a problem if anyone looks at him. Ronit hugs him and says that Prerna has destroyed everything. Ronit says that he has made a deal with Mr. Bajaj but back-off from it after seeing Prerna. Ronit says that they are going to marry.
Ronit says that Prerna might have put a bet in front of Mr. Bajaj to rescue Anurag and she will marry him. Ronit's friend says that they have got Prerna's wedding card with Anurag. He says that Prerna's family is not aware of it. Ronit says that he can do something now.
Ronit asks his friend to go to Mr. Bajaj and Prerna's wedding and click their picture to send him. Anupam's ex comes to the wedding as she was serving drinks. Nivedita gets angry after meeting her.
Pandit Ji begins the wedding rituals for Anurag but Anurag gets hurt from a stem of the rose. Anurag performs the rituals and feels like Prerna is sitting next to him.
Anurag receives a message from someone about a gift for him in the room and he thinks it might be Anupam. Anurag goes to his room to see Anupam. Anurag gets shocked to see Ronit in his room. Ronit shows him the picture of Prerna in the wedding outfit. Anurag holds him and question what he is doing?
Ronit shows him a live video of Prerna sitting with Mr. Bajaj for the wedding. Anurag slaps Ronit and question what is it? Ronit says that he should stop the wedding. Anurag doesn't believe it as Ronit can't help him. Ronit says that he just wants to see his reaction to it. Anurag runs to Prerna saying that he is going to bring Prerna back.
Prerna gives her hand to Mr. Bajaj and is lost in Anurag. Prerna is crying badly and feels bad for Anurag. Anurag gets stuck at a red light and thinks how can Prerna betray her like this?
Precap: Mr. Bajaj was about to apply vermilion on Prerna's forehead and Anurag comes over there. Anurag destroys everything and stops their wedding. Prerna says that she loves Anurag and Anurag hugs her. Prerna says that she wants to marry Anurag and both of them gets married there!