The episode begins with Anurag stuck at the red light and Prerna recalling her memories with Anurag. Anurag runs in the red light and an inspector stops him. Anurag explains his situation and the inspector leaves. Anurag reaches the place and starts running to find the temple. (Check: Kasautii Zindagii Kay 2 Written Updates.)
Mr. Bajaj and Prerna take the seven rounds. It starts raining and Anurag talks with a lady about the temple's location as he is finding her lover who is marrying someone else. Anurag falls down and gets hurt, but stands up to run for the temple. Mr. Bajaj takes the vermilion to put on Prerna's forehead, but Anurag comes there.
Anurag gets shocked to look at everything and questions Prerna what is she doing? Mr. Bajaj tries to take him back, but Anurag throws water in the Hawan Kund to stop their marriage. Anurag says that someone showed him a video but he didn't believe it.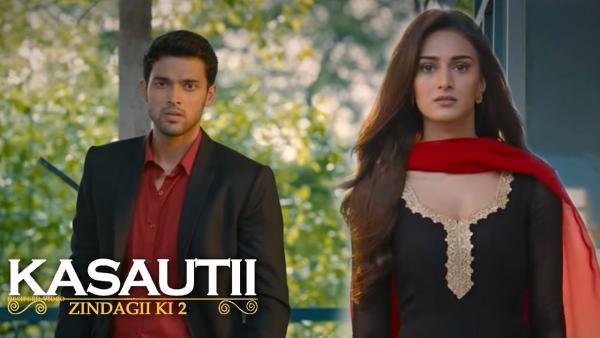 Mr. Bajaj tries to stop him, but Anurag cries badly and talks with Prerna about everything happening. Anurag says that everyone is waiting for the wedding so she should not do this. Anurag questions whether Mr. Bajaj is forcing her? Anurag questions whether she loves him? Prerna says that she loves him and want to marry him.
Anurag moves Mr. Bajaj and hugs Prerna. Anurag says that she has gone crazy and should not be afraid of this person. Anurag asks Pandit Ji to begin the wedding rituals since he is going to marry Prerna and no one can stop it. Anurag says that they will fight with destiny and will be together.
Anurag fires the Hawan Kund and asks Pandit Ji to begin the mantras. Anurag holds her and takes the seven rounds. Anurag applies vermilion on Prerna's forehead and they get married. Anurag comes into senses as it was just his imagination. Anurag runs to the temple and gets hit by a car. Anurag falls down in an unconscious state.
Mr. Bajaj applies vermilion on Prerna's forehead. Anurag calls Prerna's name and gets unconscious. His head is bleeding badly in a serious condition. Nivedita takes the Thaal and Diya gets blown away. A lady tells that it is a bad sign. Veena asks Shivani to call Prerna but her phone doesn't connect.
Nivedita asks Anupam about Anurag. Nivedita says to Anupam that all bad things are happening. Nivedita calls Veena aunty to know about Anurag but Veena denies that Anurag has not come here. Nivedita says that he has gone to bring Prerna. Veena says that Prerna is not picking up the call.
Veena asks Shivani to go to the parlor for Prerna. The crowd gets appeared to help Anurag. The lady says that he came to find her lover, but couldn't reach her. She shouts to the crowd to call an ambulance for him.
Prerna and Mr. Bajaj came out of the temple. They were leaving in the car and the driver asks someone about the rush. The person says that he has got hit by a car and he was running to the temple to find his love. Mr. Bajaj asks the driver to leave. Prerna asks the driver to stop and goes to check who is there!
Prerna feels like that the person is known for her, but can't see his face.
Precap: Pandit Ji was welcoming Mr. Bajaj and Prerna into the house, but Prerna runs away from there. Prerna thinks that she can't remain in this marriage. Mohini and Nivedita are blaming Prerna's family that Prerna has got married to someone else!