The episode begins with Prerna sitting in a confused state and Nivedita tells her that they have to go to the temple of their ancestral deity as it is a ritual. Nivedita question Prerna what has happened as she is looking tensed? Prerna says that everything is fine and she has an elder sister like her. (Check: Kasautii Zindagii Kay 2 Written Updates.)
Anurag comes home and looks at him in the mirror. The electricity goes and Prerna gets scared. Prerna starts finding candles and puts them in the room. Anurag comes to her and she got scared. She was about to fall, but Anurag holds her. Anurag says that she was missing him and ask what she wants to speak?
Prerna says that he has made her a paranoid. Prerna says that she feels scared because she has seen happiness coming to her and then going away from her. Prerna says that she wants to speak a lot, but is unable to do it. Anurag keeps her hand on his chest and says that as long as his heartbeat, no one can snatch her happiness.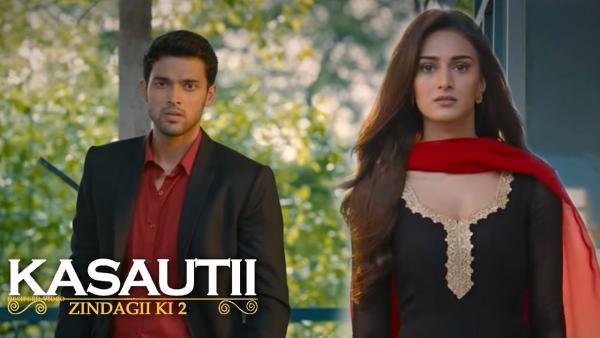 Prerna says that she trusts him, but she is having a bad feeling of the morning. Anurag asks her to look into his eyes and says that in this journey of love irrespective of the obstacles that lie ahead of them, their love will not stop. He says that no third person will come between them.
Someone's entry is shown. The candles start to blow away as the window gets open. Prerna goes to close the window and candle blows off in Anurag's hand. Anurag also helps Prerna to close the window. He hugs Prerna and says that he is with her.
Shivani looks at Aryan and he says that he was trying to meet her for a long time. Shivani asks him to come inside and he says that he is not doing good because he missed her a lot. He says that when he couldn't control, so he came to her. He says that he wants to marry her. Shivani gets happy and he apologizes on behalf of his family.
Anurag comes to the office and meets Saurab to know about Mr. Bajaj. Saurab says that Mr. Bajaj is going to come to Kolkata soon, but it is not confirmed. Anurag says that he wants to know everything about him.
Prerna comes to the temple and Sneha comes to her. Prerna hugs her and says thank you to her for helping her. Sneha gives a flower to Prerna and Nivedita also ask for a flower. Tapur also compliments her. Sneha's Nani says that she likes Prerna a lot and she bought flowers for her. Prerna says that she also likes her a lot.
Sneha's Nani says that she misses her as she saved her from falling down. Prerna takes Sneha inside the temple and makes her pray for god. Nivedita tells the priest to perform the pooja in the name of Anurag and Prerna. Nani ask Sneha to go and Sneha runs back to hug Prerna.
Mr. Das informs Anurag that their investors have sold all the shares, but the shares are going up and all the shares sold by three companies have been purchased by a shell company. Anurag says that it means someone is keeping an eye on them. Mr. Das says that he doubts Mr. Bajaj is behind this and he will find proof also.
Anurag invites him for his engagement and ask a gift about Mr. Bajaj's information.
Precap: Mr. Bajaj comes to Anurag and Prerna's engagement!