The Kasauti Zindagi Ki episode begins with Prerna informs Shekhar and Shivani that she is fine. Veena says that she should return now leaving everything. Prerna questions why she didn't ask about Anurag? Veena says that she has gone mad after him. Prerna denies to return and Shekhar asks her to return with Anurag. (check: Kasautii Zindagii Kay 2 Written Update.)
Veena slaps Shekhar that their love can't be completed. Shekhar says that she is wrong this time. Veena asks him to open his eyes and don't make her sister fall like this. Mahesh says that Anurag is made for Prerna but Veena slaps her. Shivani says that she can't make him quite as he is right. Veena slaps Shivani and starts crying. All of them consoles Veena.
Prerna drives fast to reach Anurag and calls him that she is behind his car only. Prerna comes on his side and drives fast. He keeps denying her not to come. Prerna says that she won't leave him like this. Ronit informs about Anurag's car's location to Sonalika as he is going towards the hill..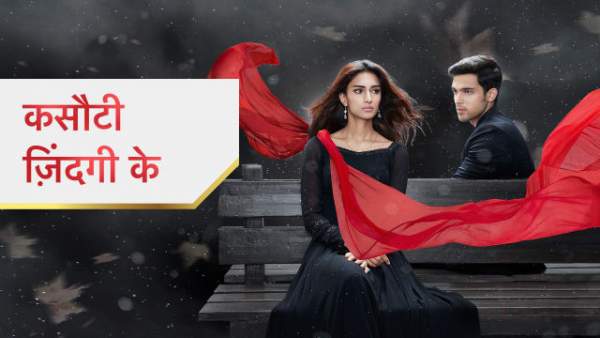 Sonalika gets worried why Anurag is going on the hill as there is a cliff. Prerna says to Anurag that there is a cliff ahead so he can jump into her car when she takes her car near to his car. Anurag's seat belt doesn't open and he tries to cut it with the key but he fails. He says that he would be with her in the next life.
She asks him not to speak all this. Prerna takes her car in front of Anurag's car and his car pushes her car forward. Anurag recalls about his accident in the past and shouts for Prerna to open her eyes. Prerna tries to stop her car but her car keeps moving forward to the cliff. Anurag asks her to stay calm as he will save her.
Prerna opens her eyes and thinks that she will not be with him now. Anurag cuts his seat belt and comes out to save Prerna. Sonalika comes over there and gets shocked to see that Anurag is with Prerna. Sonalika thinks that someone will die today and thinks that Prerna should die today.
She gets angry that Anurag didn't pick her call and was talking to Prerna all the time. Anurag takes out Prerna from her car and says that she put her life in danger to save her. Prerna's hand is bleeding and she gets unconscious. He picks Prerna in his arms and goes to asks for help.
Sonalika leaves from there. Anurag stops a car to save Prerna but Sonalika thinks that no one should help him as Prerna has to die. A car stops and Anurag sits with Prerna to take her to the hospital.
Sonalika calls Viraj and questions why he doesn't pick her call! Viraj says that she is not his girlfriend so he should not have any expectations. Sonalika asks him to call Anurag and Prerna is also safe as he helped her. Sonalika says that she saw love in Anurag's eyes for Prerna so she wants him to engage Prerna soon.
She asks him to go to the hospital and show his concern to Prerna.
The doctor and nurse go to prepare for Prerna's stitches. Prerna comes into senses and smiles seeing Anurag. He asks why she never listens to him. He says that he got scared of seeing her condition. The nurse takes Prerna for stitches. Prerna says to Anurag that he would have done the same if she was in such a condition.
Precap: Sonalika warns Prerna not to spread her wings so much. Prerna says that she will soon be out of the Basu Mansion now!