The Kasauti Zindagi Ki 2 episode begins with Anurag's phone starts ringing and he picks Komolika's call. Komolika questions how much time he will take now? Anurag says that he is in the lift and will call her later. Komolika asks why is he in such a hurry to disconnect the call? (check: Kasautii Zindagii Kay 2 Written Updates.)
Komolika questions with whom is he in the lift? Komolika questions whether there is someone special which he can't share with her? Anurag says that he will talk to her later. Anurag says love you to her and disconnects the call. Mr. Bajaj calls Prerna whether she is fine as he got to know from Kukki about the lift.
Prerna says that she is fine and the lift will open soon. Kukki and Kaushik run to the authorities to open the lift. Anurag says that how much time will be taken now? Prerna says that she doesn't know. Anurag says that he is not talking with her. The mechanic comes and corrects the settings.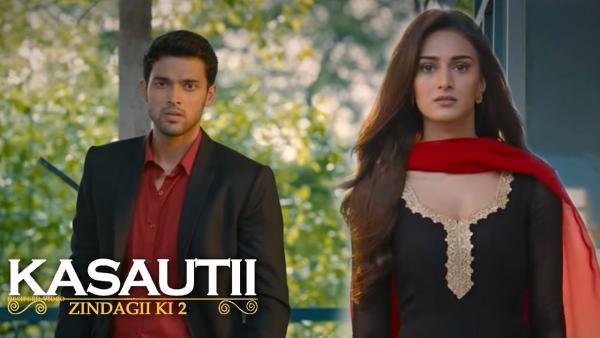 The lift starts working and Prerna tries to open the door with her hands but she gets hurt as her hand gets stuck in the door. Anurag comes to help her but she asks her not to touch her. Anurag lets her do it herself but she fails. Anurag helps her to take her hand out without her permission.
Anurag thinks that if he tells her truth, then will she believe him? He thinks that he doesn't want any complications so he should not talk. Anurag and Prerna come out from the lift.
Prerna takes the car keys from Prerna and sits to drive. Prerna keeps horning as Kaushik parked the car in front of her car.
Prerna keeps horning and Anurag looks at her. Prerna shows her a down thumb. Kukki thinks that something is going between them. Anurag drives the car and Prerna overtakes his car in anger after recalling what Anurag said to her! Kukki asks Prerna to drive slowly. Kukki questions whether she knows the handsome man?
Prerna recalls when he pushed her into the river and replies that it is worthless knowing him. Anurag drops Kaushik to his college. Prerna also drops Kukki to the same college.
Anurag returns to home and questions about Rakhi di? Nivedita and Mohini question him how is it possible? Komolika is also standing over there.
Anurag thinks to keep Prerna away from Komolika. Anurag says that it didn't happen good but it will be worse if they keep thinking about it. Anurag says that he has arranged a party tomorrow for his tie-up. Komolika stops Anurag that he can't lose the land. Nivedita says that it is business and he goes upstairs.
Prerna looks at Veena crossing the road but then she disappears. Mr. Bajaj calls her and questions whether she is founding someone? Prerna says that she saw her mother but she can't meet her now. Mr. Bajaj says that she lives in the same house so she can meet her. Prerna says that she is over a mission and then will go home.
Kukki looks at Kaushik that he is the same college. She looks at him misbehaving with a girl. She plans to teach him a lesson with the girl. She complains to an inspector over there and he calls them at the police station. The inspector takes Kaushik to the police station. Kukki comes over there. Kaushik says that this girl is a mad person.
Kaushik takes Naina and tries to change her mind. Naina denies the inspector that nothing has happened. Kaushik warns Kukki that she should wait for his actions now.
Precap: Mohini also talks that Komolika has taken over everything. Prerna and Mr. Bajaj come to see Anurag!