The episode begins with Anurag hold Prerna's hand and take her outside the police station. Prerna feels hungry and Anurag also feels hungry. Both of them sit the car to leave. Prerna says thanks to Anurag and Anurag says that he has decided that she will stay with him now as a personal secretary. (Check: Kasautii Zindagii Kay 2 Written Updates.)
Mohini is happy to see everyone enjoying Sindoor Kala. Sonalika comes down and Mohini compliments her. Sonalika asks Mohini to give her Sindoor as a blessing. Mohini puts vermilion on Sonalika and Nivedita. Everyone puts Sindoor on Sonalika.
Sonalika puts Sindoor on Tapur and says that she will get married soon as her engagement is already done. Nivedita listens to her and gets shocked how come Sonalika knows about Tapur's engagement? Sonalika says to Nivedita that mother-in-law told her. Nivedita thinks how come she gets to know her thoughts?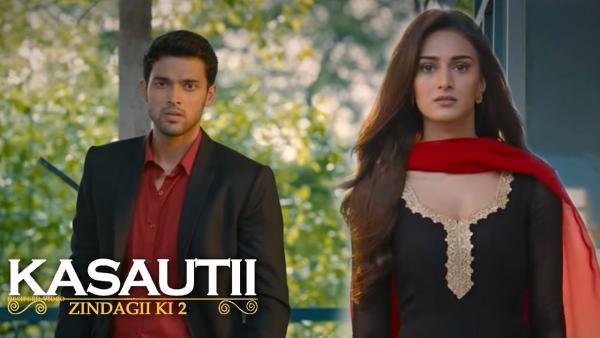 Anurag returns at his home with Prerna. Anurag looks at Prerna and questions whether he should take her in the house in his arms? Prerna stares at him. Anurag says that he was just kidding as she is not coming out from the car. Prerna says to Anurag that they were supposed to go someplace to eat something.
Anurag says that he loves home-cooked food which is better than the restaurant. Anurag says to Prerna that she should try Bengali food as it is amazing. Anurag says that he will also introduce her to everyone as she is his personal secretary. Anurag takes Prerna to come inside the house.
Mohini and Komolika get shocked to see Prerna entering the house. Prerna recalls her memory when she came to the house. Anurag and Prerna's footprint gets on the floor when they enter the house. Mohini and Komoliak get angry to see Prerna coming with Anurag.
Everyone looks at the footprint left by Anurag and Prerna together on the floor. Someone says that Prerna's footprint is in the house like a newlywed bride entering her husband's house.
Anurag and Prerna look at their footprint in the house together. Anurag says that Prerna looked at the Sindoor so she insisted to remove the shoes. Anurag questions everyone, why are they so quiet? Mohini questions Prerna what is she doing in the house?
Anurag says that he brought her inside the house and she was not even coming out of the car. Anurag says that he was very hungry, so he brought Prerna also at the home as he likes home-made food. Komolika gets angry that Anurag took out Prerna from the police station. Komolika thinks that Anurag will have to bear the punishment now.
Nivedita says to Prerna that she came with Anurag as he insisted on her. Anurag questions Nivedita why is she talking like this? Anurag says that Prerna has come here since Prerna is his personal secretary from now. Anurag says to Mohini to get the food ready. Sonalika leaves from there.
Anurag takes Prerna in her room. Moloy and Anupam come over there and gets happy to see Prerna. Anurag says to Moloy that Prerna has changed. Moloy tries to apologize from Prerna but she speaks that nothing has happened. Anurag asks Prerna to forgive his father as it was only an accident.
Prerna says that she wishes that nothing should have happened like this. Anurag says that he will drop Prerna at home. Prerna says that she doesn't want to tell Anurag about the house as it got burnt!
Precap: Mohini says to Prerna that she intentionally came back. Prerna says that it was just destiny. Anurag says that he thinks his destiny is linked with Prerna. Komolika thinks to make Prerna lose her baby!