The episode begins with Komolika questioning her mother-in-law to speak something. Mohini asks from Komolika if she would like to go on a honeymoon with Anurag! Mohini says that when she comes back, he must be hers. Mohini says that Prerna is here to fight for her marriage and to save her husband, so let her fight. (Check: Kasautii Zindagi Kay 2 Written Update.)
Mohini says that let Prerna act like a married lady, but without a husband. Mohini says that after Komolika returns from the honeymoon, after winning Anurag's trust, she will herself realize that she is fighting a losing battle. Komolika is happy with this plan. Mohini says that she will convince Anurag for the honeymoon.
Komolika says that she trust her as she will fix everything. Mohini asks Nivedita to check out Anupam as he is acting out. Anupam gets down from the bed while sleeping. Nivedita says that he was shouting about Anurag and Prerna's love, but today when Prerna said that Anurag is her husband then no one thought that Anurag loves her.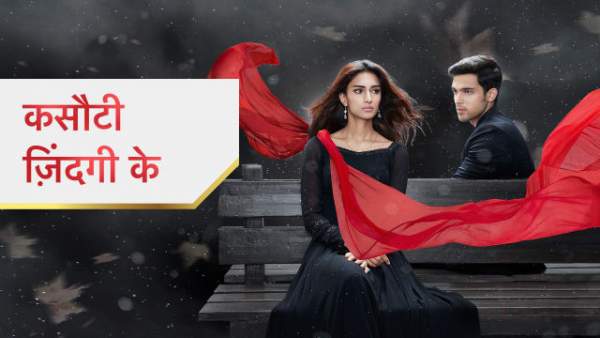 Nivedita says that he is unaware about their plan for Komolika as she is the real daughter-in-law of this family. Anupam says that she has no clue as to what they have in store for her. Nivedita asks who is along with him? Anupam says that he and Nivedita. Anupam says that he is sleepy, so let him sleep.
Nivedita comes to wake up Anurag and he is sleeping in the guest room. Nivedita says that mom is not well. Anurag gets up and leaves for checking his mother's health. Komolika asks Mohini that is she sure that she wants to do this? Mohini says that it is the only way to coax Anurag to agree.
Mohini and Komolika are acting like Mohini's health are not good to convince Anurag for a honeymoon. Anurag comes to ask about his mother's health. Anurag says to take her to the doctor. Mohini says that the doctor cannot ease the mental pain, they can heal only physical pain. Mohini says that she cannot rest easy until they have this problem.
Anurag says that do not think about it. Mohini says that she had many dreams about Anurag's wedding, but then everything was so fast and then comes this woman! Mohini says that she could not even congratulate him so she wants Anurag to go on a honeymoon with Komolika.
Anurag gets up and thinks that it is the right time to come close to Komolika. Mohini asks whether he has any objections. Anurag says that he has no objections since he now knows that Prerna was never the right choice. Anurag says that Komolika is his wife.
Anurag says to Komolika by holding her hand that he knows their wedding took place in a hurry, they didn't even find time for the rituals, and they didn't even find time to know each other. Anurag asks Komolika that if she would like to go on a honeymoon with him? Komolika says a yes to him. Anurag says that he will make all the arrangements and leaves.
Mohini and Komolika are really happy to see this. Nivedita also comes and is happy to hear that Anurag is ready. Anurag thinks that it's beyond Komolika's imagination that he is planning to defeat her in her own game. He thinks that this honeymoon will be her defeat and the first victory of his love.
Prerna hits with Anurag and falls down in his arms. Both of them imagine their memories together. They recall the time spend together with each other. Prerna gets away saying that she doesn't want his help, but her thread gets tied with Anurag's outfit. She tries to remove it, but couldn't and then Anurag removes it.
Both of them are close to each other and Anurag opens the thread. Prerna leaves and Anurag gets worried if Komolika would have seen him like this, then she would have realized that he still has feelings for Prerna. He thinks that Prerna shouldn't face any other problem because of him so he will have to keep Prerna away from her.
He looks at Prerna and she walks away thinking that she has to remember what Anurag has done to her and he is just her enemy.
Anurag comes into his room and Anupam questions Anurag that he is going on a honeymoon with Komolika. Anupam says that he was going to find a way to get rid of her and now, he is going on a honeymoon with her. Anurag is smiling and hugs Anupam.
Anurag says that this was the first step of his plan, but he needs time till tonight to make the plan certain and then, he will tell Anupam about it.
Prerna comes in her room and gets shocked to see Komolika. Prerna ask what is she doing in her room? Komolika says that she is going on a honeymoon with Anurag for their nuptial night. Komolika says that Anurag is ready to spend the night with her. Komolika says that after tonight, Anurag will never come into Prerna's life.
Prerna asks Komolika to go and start her packing. Komolika says that Prerna's mother didn't make her learn that she shouldn't come after someone else's husband. Prerna says that don't bring her mother in between. Prerna says that Komolika's dream is going to shatter and her nuptial night is going to be an ordinary night for her because she won't let this happen.
Komolika says that it is a challenge and she never loses a challenge. Prerna says that she always wins. Komolika says that if Prerna wins this challenge, then Komolika will bow down before her.
Precap: Komolika says to Anurag that Prerna has occupied her room and bed. Anurag says that they must solve this problem together and he will help her, being her husband. Anurag and Komolika leave for the honeymoon in front of everyone!