The episode begins with Anurag questioning Vikrant and Prerna about the whole incident happened with them. Anurag question about the glass design? Prerna says that they were crystal glasses. The waiter recalls that he has kept the glasses out of the hall. (Check: Kasautii Zindagii Kay 2 Written Updates.)
Anurag asks the servant to bring all the glasses used to serve the drinks. Prerna and Vikrant find out the glass and Anurag ask the servant to pick up all the used glasses like it with handkerchiefs. Anurag looks at Moloy showing hints about the place where the glasses are kept. Anupam brings those glasses and the waiter gets worried.
Anupam says that the glasses will be sent to a forensic lab for the test. Anurag asks from Prerna and Vikrant about the waiter's description. Anurag calls all the waiters to stand in a line. Prerna and Vikrant catch the waiter who has served them drinks. Komolika says that he has served the drink to her also and nothing happened to her.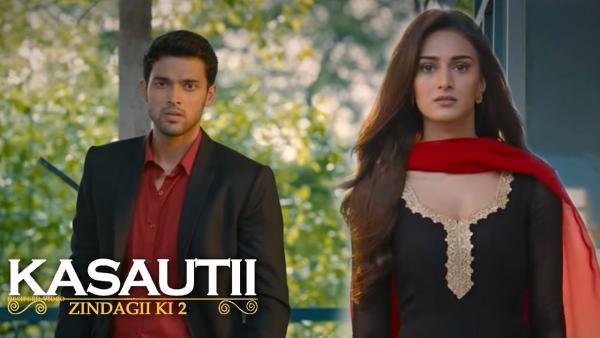 Nivedita says that he has also served her the drink and she is absolutely fine. Anurag says that the police are coming and they will check the fingerprints on the glass. Anurag asks the waiter's name. The waiter says he is Arvind and says that it is good as everything will get cleared. Anurag asks the waiters to leave and signals Anupam to run the siren of the police.
Arvind starts running after hearing the siren and Anurag catches him. Anurag says that he is the one who has spiked their drink and the police are also coming. Anurag asks the waiter to apologize from Prerna and Vikrant. Komolika gets worried and thinks to divert everyone's mind.
Anurag says to Sahil's family that they have seen everything now. Anurag asks them whether they trust him or not? Anupam and everyone say that they trust him. Anurag says thanks to everyone to trust him. Sahil's relative asks about the person who has planned all this. Anurag says that the planner is someone else and ask it from the waiter.
Komolika goes to her room and thinks to rescue from it. Komolika calls her dad to handle everything. Komolika didn't get to contact with her dad as he is busy in a meeting. Komolika goes downstairs to handle the situation. Komolika catches a waiter and asks him to do work for her.
The waiter agrees that he has spiked Prerna and Vikrant's drink. Anurag ask that who has asked him to do this? The waiter says that he has done it for money. Komolika has asked another waiter to make the chandelier fall down. Komolika comes downstairs and pushes Anurag saying that the chandelier is falling.
Everyone gets away and Anupam goes upstairs to check it. Anupam says that everything is alright.
Komolika takes a knife and gives it to Arvind to help rescue him from the house. Arvind comes puts a knife on Prerna's neck and ask them to go away. Arvind tries to leave from there keeping a knife on Prerna's neck. Arvind throws Prerna on Anurag and runs from there. Everyone goes to catch Arvind.
Arvind is starting the scooter and runs from the house. Komolika comes in her room and catches Vikrant over there. Vikrant says that he knows that Komolika has planned all this.
Sahil's family apologize from Prerna for judging her wrong. Anurag gets happy to see Prerna.
Precap: Vikrant says to Komolika that he will reveal to Anurag that she has made Moloy uncle met with an accident! Komolika hires someone to make Vikrant met with a bad accident!