The episode begins with Prerna feeling happy to see Cooky sleeping. Prerna kiss on her forehead. Mr. Bajaj comes there and Prerna says that she was leaving. Mr. Bajaj says that he loves Cooky so he feels painful when something happens to her. Prerna says that she is also connected with Cooky now. (Check: Kasautii Zindagii Kay 2 Written Updates.)
Mr. Bajaj is getting ready in his room. Prerna gets a call from Shivani talking about mom. Shivani says that mom is going a job for decoration work which is not good for her health. Prerna calls on the party's landline number to talk with Veena. Prerna says that she doesn't need to do a job at this age.
Veena says that she needs money so she is doing a job. Prerna says that she will give her the money. Veena denies taking her help. Prerna gets worried about her mother. Mr. Bajaj hears everything and says that she can handle her problem. Prerna says that she is not able to understand his talks.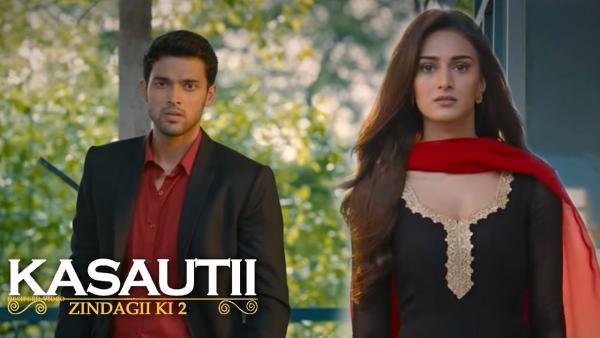 Mr. Bajaj says that she should solve her mother's problem. Mr. Bajaj received a call from Mr. Mehra and he goes to receive it. Prerna thinks that something is related to his mother and his past which hurts him a lot. Prerna thinks what has changed Mr. Bajaj so much?
Mohini is talking with Nivedita about Anurag's situation. Masi also comes with Tanvi to have breakfast. Masi says that they can continue their talk as they won't disturb them. Mohini says that it is a breakfast table so she doesn't want to mess with her mood.
Masi says that she also doesn't want to speak with Rishab about throwing out 50% share partners out from the house. Mohini says to Masi that she is not Rishab's mother and Tanvi is not his wife so what are they doing here? Masi says that Nivedita has got married and stay in her house. Mohini says that they have bad thinking and leaves with Nivedita.
Masi says to Tanvi that she should marry Rishab. Masi says that Cooky should run to her instead of Prerna. Cooky runs to hug Prerna and both of them get shocked. Prerna takes Cooky as she has made something special for her. Masi makes a plan to bring down Prerna in front of Rishab.
Moloy thinks that he knows about Mr. Bajaj's intentions, but can't do anything. Prerna looks at him from upstairs. Mr. Bajaj comes inside the house and Moloy stares at him. Mr. Bajaj calls the servants to take Moloy to his room. Prerna denies the servants as she is like her father so she will take care of him.
Prerna talks with Mr. Bajaj that she didn't like how he treated Moloy uncle! Mr. Bajaj says that he is paralyzed so anyone should always be with him. Prerna says that these people are like her family so she won't tolerate it. Mr. Bajaj question whether she can help her mother?
Mr. Bajaj says that it is not good for her mother to do such a job. Prerna says that her mother won't ever listen to her. Mr. Bajaj asks her to talk with her mother.
Precap: Veena comes to decorate the Basu Mansion as her job. Mohini says to her that it is Bajaj's party. Veena is not aware of it. Veena question Prerna what is she doing here? Prerna says that Anurag has snatched Bajaj Mansion. Nivedita insults Veena about getting the house. Masi thinks that Veena will break Prerna and Rishab's marriage!