The episode begins with Prerna going to see the person who has met with an accident. Mr. Bajaj holds her and asks to leave for the welcome rituals. The crowd takes Anurag in the car to the hospital. (Check: Kasautii Zindagii Kay 2 Written Updates.)
Pandit Ji performs the welcome rituals for Prerna and Mr. Bajaj. Prerna receives a call from Shivani. Shivani questions Prerna that why did she do it with Anurag? Shivani says that she knows everything. Shivani says to her that she has ditched all of them and married Mr. Bajaj. Prerna says that it is destiny.
Shivani questions about Anurag? Prerna says that she doesn't know about him as he will be there only. Shivani says that she came to stop her wedding and has not returned back. Prerna questions whether Anurag knows everything? Shivani says that he knows everything and was coming to stop her wedding. Shivani says that everyone is finding him.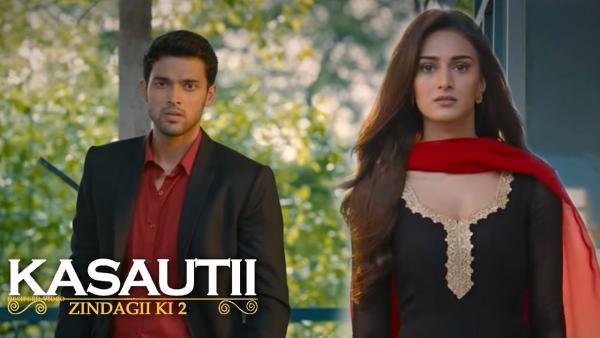 Prerna comes to the gate for welcome ritual as Mr. Bajaj was looking at her. Mr. Bajaj asks his servants to begin the rituals as she will get many calls now. Shivani says that Ronit told her about Anurag that he has gone to stop her wedding. Prerna gets emotional and recalls that the person who has met with an accident might be Anurag.
Prerna runs from there to find Anurag. Prerna falls down on the road and her leg got hurt. She gets up and takes a taxi to go to the temple. She questions about Anurag from the people near the temple. A person tells her that he has met with an accident and is now in the hospital. Prerna goes to the hospital and starts finding Anurag.
Mr. Bajaj enters his house without performing the welcome rituals. Prerna looks at Anurag and goes to him. She enters Anurag's room in the hospital and her footprints get on the floor from her blood. She cries after seeing Anurag's condition as he is in an unconscious state. She says that he might think she has ditched him.
She says that she was just saving him and there was no other option to rescue him. She says that he married Komolika to save her and so she did the same for him. She says that they will be separate, but she will be happy that he is alive. The doctor comes there and asks Prerna to leave. Prerna questions about his health?
The doctor says that he will be fine as they have treated him. Prerna was resting her head on him and looks at her nuptial thread. She starts crying and leaves from there.
Shivani is crying and looks at her mother hiding from the gate. Shivani comes to the home and looks at everyone happy for the wedding. Shivani goes inside and gets emotional after looking at everyone. Shivani comes to her room and starts crying.
Prerna calls Shivani and informs about Anurag that he is in the hospital. Prerna says that inform everyone about it and he is fine now. Shivani shouts at her that how can he be fine after such a betrayal of her?
Shivani questions how can she leave such a person? Prerna says that they can't be together since she has married someone else. Shivani says that she has made Anurag's life hell and he will die without her. Prerna tells her to take care of everyone.
Precap: Anurag informs his family that Prerna has married Mr. Bajaj. Prerna performs a welcome ritual with Mr. Bajaj. Mohini and Nivedita blame Veena for her upbringing and tells her that Prerna has married Mr. Bajaj!