The Kasauti Zindagi Ki 2 episode begins with Komolika questions Mr. Bajaj why did he come with Prerna here. Mr. Bajaj says that why can't he as she is scared about Anurag who will leave her. She says that how can he think that Anurag will leave her for Prerna whom he threw down the bridge. (check: Kasautii Zindagii Kay 2 Written Updates.)
She says that she has trust in him and he can only leave her with her wish. She says that she knows Anurag doesn't love her but he is with her. Prerna recalls her memories. She gets collided by a waiter and Shaumik scolds the waiter. She asks him to get him to go. She comes to Anurag's room and looks at his picture with Komolika.
She recalls her picture with Anurag and their baby. Prerna recalls when she questioned him why did he place the frame here. He says that he wants a much bigger one for their love. She says that he can place it after they get married. He agrees for it and hugs her. Prerna talks with his photo that he gave all her love to Komolika.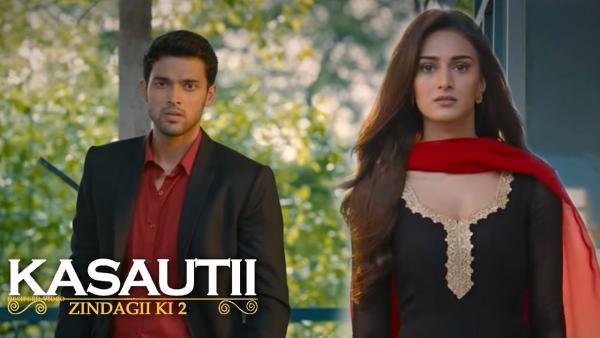 She says that she won't be crying as he doesn't deserve it. She says that how did she fail in knowing him and his reality. She says that she will end his smile soon. Anurag looks at Mr. Bajaj and goes towards him. He questions why did he come here? Mr. Bajaj says that he can consider them as guests and cheers for Prerna.
Anurag questions why he brought Prerna here as he knows what can he do with her! Mr. Bajaj says that Prerna hates him now and time has changed. Mr. Bajaj says that he is wrong if he considers her weak. Mr. Bajaj says that she is not his Prerna whom he pushed from the bridge and she is her Prerna so nothing will be good for him now.
Prerna says that she returned to take her revenge. Mohini comes over there and questions what is she doing here? Prerna says that she came to wash away the stain. Mohini says that she should speak truth why did she come here? Prerna questions why should she answer her and by which right is she asking her!
Prerna says that she doesn't consider her as daughter-in-law or daughter. Mohini says that she knows that they came to target them. Prerna smiles seeing her face and leaves from there. Mohini gets worried.
Anurag looks at Prerna as she stumbles and holds her. Nivedita says to Prerna that she should stay away from them. Prerna says there exist many of them who cast a bad sight. She looks at Komolika and thinks that this time she will lose to her. Komolika thinks that Prerna won't be successful to fight with her.
Kukki returns home and talks with Prerna about Kaushik. Kaushik talks with Anurag about Kukki. Prerna says to Kukki not to talk much about him as she will fall for him. Kukki says that no way and she is going to sleep. Kukki questions where is dad? Prerna says that she can meet him tomorrow.
Kaushik bids good night to Anurag. Anurag asks him to tell his new girls' love story. Kaushik says that he can never fall for her. Mohini questions how did Prerna come to their house? Rakhi questions how Anurag and Prerna got separated? Tapur says that Prerna left the relation.
Mohini says that they know about Sneha who was Prerna and Mr. Bajaj's daughter. Nivedita says that Anurag always considered Sneha as his daughter but Komolika never showed any complaints about it even during the times when Anurag speak Sneha and Prerna's name while sleeping.
Precap: Komolika gets into an argument with Nivedita and asks her to leave the office from now onwards!