The Kasauti Zindagi Ki 2 episode begins with Ronit takes out his shirt as Shekhar was holding him but he escaped and he failed to see his face. The police come over there and Shekhar says that he wants the person to be caught who was behind his sister's accident. (check: Kasautii Zindagii Kay 2 Written Update.)
They hear some voice and shouts to open the door. The inspector asks the constables to open the door and they find the mechanic lying over there. The goon says that he knows about the person who wants to kill Prerna. Shekhar asks the name but he gets unconscious.
Viraj recalls when Sonalika asked him to stop Nitara or else she would not leave him. Viraj says that he is his wife and Sonalika asks her to do as she wants. Viraj breaks the glass in his hand and his hand starts bleeding. Viraj bribes Veena's care take to mix his medicine in her tea.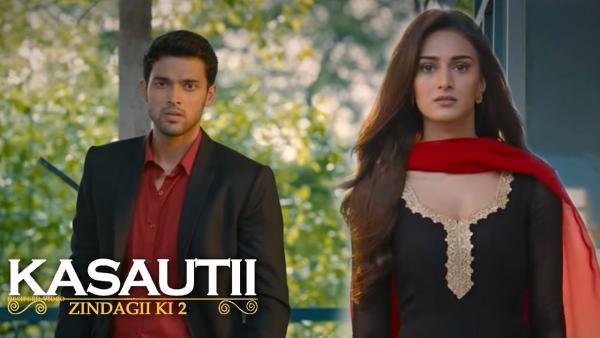 Ronit bribes a taxi driver in favor of his shirt. He informs Sonalika that the mechanic is caught by the police. Anurag returns home and Anupam is waiting over there. Anupam questions why he was following Viraj as he saw him from the terries? Anurag says that Viraj is not the one like he looks as he lied to him.
Anupam asks him to break the marriage as he will be happy and Prerna also. Anurag questions why Prerna will be happy? Anupam says that as he told that Viraj is not honest. Anurag calls Shivani and asks her to make him talk with Prerna. Shivani asks him to hold as Prerna Di is coming.
Shekhar question Shivani about Prerna? Prerna comes over there and Shekhar says that the mechanic who failed her car's brake is caught by the police and soon he will reveal about the actual culprit. Anurag hears everything on the call and calls Moloy that he needs a favor from his commissioner friend.
Shivani tells about Anurag's call to Prerna but the call is disconnected. Prerna says that Sonalika was trying to harm her. Anurag reaches the police station and talks with the inspector that he would have received the commissioner's call. The inspector allows him to meet the mechanic for five minutes.
Prerna asks Shekhar to calm down as Sonalika is trying to harm her because she hates her. Prerna says that she will handle her.
Anurag goes inside the mechanic's jail and locks the jail from inside. He locks the door from the inside and denies the constable as sometimes doing wrong is also good. Anurag gives five seconds to the mechanic to reveal the name or else he will not leave him. Anurag starts beating him and slaps him to reveal.
The constable goes to call the inspector. Anurag holds the mechanic's neck to reveal. The mechanic thinks that his wife might have sent her to make him killed. The mechanic says that he likes her and the person is having with Prerna but the inspector opens the jail with the master key and brings Anurag out.
Anurag thinks that the mechanic might be saying that his marriage is about to happen with Prerna.
Veena's caretaker helps her to sit and Veena thanks her for coming. Veena says that she doesn't feel well and won't eat the medicine now. Viraj comes over there and informs everyone that he has to prepone his marriage as he has to leave for Dubai for a project soon.
Sonalika is worried as to what will she do if the mechanic reveals her name. She gets angry seeing Prerna coming inside the Basu Mansion.
Precap: Anurag and Prerna get a clue against Viraj and Sonalika. Viraj learns that Anurag is present in his house!