The episode begins with Mohini says to Anurag that he should go on a honeymoon with Sonalika. Anurag says that he can't leave the office right now and will spend time with Sonalika at home. Mohini says that she will make his room decorated. (Check: Kasautii Zindagii Kay 2 Written Updates.)
Mohini comes to Sonalika that Anurag is busy in the office work. Mohini says that she will make the special arrangements in her room. Sonalika stops Prerna and asks her to decorate her room for the first night. Prerna denies that she can't do it. Sonalika says to Mohini that she thought that this girl works for Anurag.
Prerna says that she is Anurag's secretary, but not a decorator. Mohini takes Prerna at a corner and warns her to decorate the bedroom. Prerna agrees with it. Mohini asks Prerna to take the lamps also. Anurag comes into his room and goes to the washroom. Sonalika asks Prerna to wash the lamps in her bathroom but doesn't look at other things.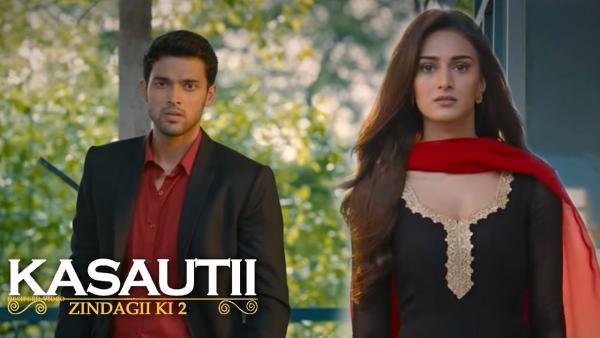 Prerna opens the bathroom and enters without noticing Anurag. Prerna turns her face and apologizes that she wasn't aware of him. Anurag says that he has already taken the shower and wear the clothes also so she can turn. Anurag takes the lamps and questions why is she doing extra work?
Prerna says that she has to decorate his room. Anurag questions why would she decorate his room? Prerna says that she likes decoration. Anurag questions whether she likes to do extra work in pregnancy also? Anurag questions Prerna whether he can ask a personal question? Prerna says yes.
Anurag questions about her husband? Prerna recalls when she told her pregnancy news to Anurag and gets upset. Prerna says that her husband loves her a lot and he is not with her due to some reasons. Anurag talks with Prerna's child that her mom is very strong. Prerna recalls when Anurag told her that he wants a girl.
Anurag says that he feels like she will give birth to a girl. Mohini comes calling Prerna and knocks at the washroom.
Anurag says to Prerna that mom should not get to know that he is with her. Anurag hides in the washroom and Prerna opens the gate. Mohini says that flowers have come so she can do her work.
Prerna gets hurt while washing the lamps and Anurag stops her. Anurag brings the bandage and put it in Prerna's hand. Anurag questions Prerna why does he feel protective about her? Prerna questions why? Anurag recalls something blurry and leaves from there.
Prerna is decorating the bed and thinks that she hates all this. Prerna thinks that she will get back Anurag soon. Komolika comes and stands behind her. Prerna turns and Sonalika ask Prerna to put a silk bed sheet.
Prerna is decorating the bed with flowers by standing on a stool. Anurag looks at her and questions what is she doing? Prerna says that she is decorating the bed for his Suhagraat. Anurag asks her to come down and puts the flowers himself. Prerna gets up and hit by the stool.
Prerna falls and Anurag also falls while saving her on the bed and flowers get showered on them. Komolika gets angry after looking at them. Anurag takes Prerna to get up. Anurag says to Sonalika that Prerna's leg got slipped so he fell while saving her. Anurag says to Prerna that she will do only the work which he will ask her!
Sonalika thanks Prerna for decorating the room and asks her to leave. Sonalika takes her leg out to make Prerna fall.
Precap: Sonalika comes close to Anurag. Anurag looks at something burning and throws Sonalika away. Sonalika warns Prerna to stay away from Anurag or else she will not leave her. Prerna recalls that she is talking like Komolika!