The episode begins with Mr. Bajaj and Prerna reach Switzerland. The hotel owner greets them for their honeymoon. Veena burns all the stuff related to Prerna since she betrayed them. Veena is crying badly and Shivani tries to console her. (Check: Kasautii Zindagii Kay 2 Written Updates.)
Prerna was turning, but her leg got stumbled and she was about to fall. Mr. Bajaj was trying to hold her, but Prerna asks him not to touch her as she can manage herself. Mr. Bajaj says that he was just saving her and he will never touch her with any other intention. He says that she should walk properly so that he doesn't touch her.
He says that if she falls next time, then he will get a clue that she wants him to touch her intentionally. He says that he has a lot of meetings so she can enjoy being alone. Prerna gets emotional and recalls her memories with Anurag. She is crying badly that she wanted to come with Anurag to Switzerland.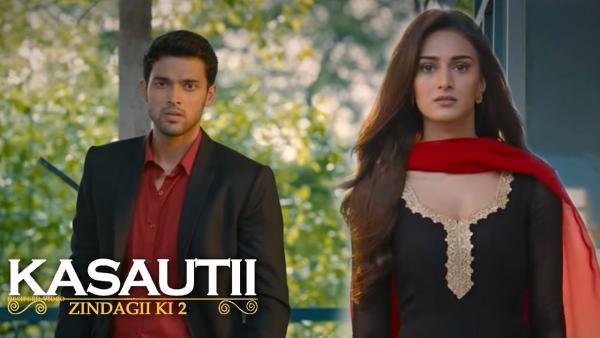 She gets emotional and cries badly after recalling her married with Mr. Bajaj. Anupam and Nivedita also come to Switzerland. Mr. Bajaj comes there and Nivedita says that he just uses people as his personal toys. Nivedita says that he can do anything to spoil any businessman.
Mr. Bajaj doesn't give her reply and says that it is not the right place to create such scenes. Nivedita says that she will do it to show everyone about his act. Mr. Bajaj questions about Anurag's condition? Nivedita and Anupam get shocked how come he know about Anurag's accident? Mr. Bajaj says that he has all the information and shows his cold reaction.
Prerna feels that she is happy that at least Anurag is fine now. Nivedita recalls Anurag's sad face when he was crying badly. She thinks that everything is happening because of Prerna. She thinks to find Prerna and question her. She goes to the hotel and question about Mr. Bajaj's room. Anupam comes there and thinks why is she asking about it?
Nivedita introduces herself to the receptionist and says that she wants to personally invite Mr. and Mrs. Bajaj. Nivedita says to Anupam that she wants to talk with Prerna and she can't sleep until she knows about the reason behind her betrayal. The receptionist calls Mrs. Bajaj before letting her go inside. Prerna doesn't pick up the call.
Nivedita says to the receptionist that they will go themselves to invite them. The receptionist denies that they need special permission to go into the suite. Nivedita asks Anupam to handle her so that she can go without informing the receptionist.
Anurag is lost in Prerna's memories and stares at their photos. He recalls her marriage and tears the photo. He starts crying badly and throws away his engagement ring.
Nivedita comes to Prerna and Prerna gets happy to see her. Nivedita questions Prerna that how can she be such a girl? Prerna questions about Anurag. Nivedita shouts at her that she doesn't know about him. Nivedita says that even an enemy doesn't do such thing which she did with Anurag.
Nivedita says that Anurag was so happy about his marriage and Prerna but Prerna spoiled his life.
Precap: Nivedita shouts at Prerna that she is such a bad girl. Mr. Bajaj says to Prerna that he will never touch her with any bad intention. Anurag comes to Switzerland and Prerna informs him that she married Mr. Bajaj to rescue him from the jail!