The episode begins with Sonalika comes to Anurag and close his laptop. Anurag says that he was doing important work. Sonalika says that it is there Suhagraat today. Sonalika takes Anurag with her on the bed. Sonalika says that they will talk to each other. (Check: Kasautii Zindagii Kay 2 Written Updates.)
Sonalika comes close to Anurag but he feels awkward. Prerna thinks that she feels jealous as Anurag is with someone else. Sonalika intentionally falls on Anurag and says that her leg has got hurt. Anurag takes her to the bed. Sonalika gets happy and falls on him on the bed. Anurag's leg got hit on a wire.
Sonalika touches Anurag and tries to come close to him. The wire starts burning and Anurag pushes away Sonalika to check the fire. Anurag says to Sonalika that it is a short-circuit and he is going to bring the servant to repair it. Sonalika gets angry that it is Prerna's act.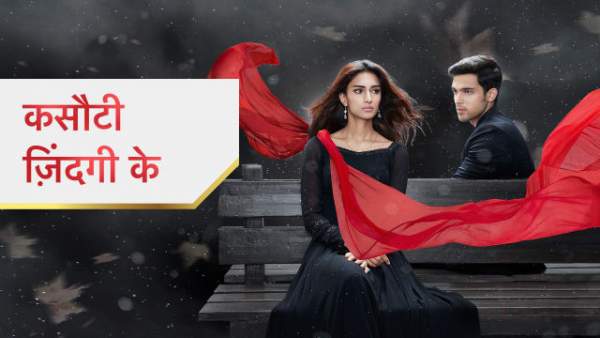 Sonalika comes to Prerna's home. Sonalika questions Prerna why did she burn her bed? Sonalika questions why did she keep the short circuit under the bed? Prerna says that she doesn't know about it. Sonalika says that she is a liar. Prerna recalls that Komolika used to speak all these things.
Sonalika says that the people who dream bad about others always face a bad life. Prerna recalls that Komolika has also told this line before. Prerna holds her head and Sonalika speaks the same dialogue which Komolika used to speak. Sonalika warns Prerna to stay away from Anurag or else she will not leave her and leaves from there.
Prerna thinks that she is Komolika. Prerna receives a message from Anurag and he asks her to bring the file.
Anurag tells Moloy about the short circuit on the decorations. Moloy questions why there were decorations as it only happens on Suhagraat! Anurag says that it was for it only. Moloy questions whether Prerna decorated the bed? Anurag says that she is very innocent. Moloy thinks that he needs to talk with Mohini again.
Mohini asks Sonalika about Anurag. Mohini goes into the room to check Anurag but Sonalika says that he might be in the study room. Mohini question Sonalika where she was? Sonalika says that she was spending her night, but there was a short circuit and everything got spoiled. Prerna was passing from there and listens to them.
Mohini questions Prerna why did she burn it? Mohini asks Prerna to apologize to Sonalika. Prerna comes to Sonalika and Mohini leaves from there. Prerna keeps the file in the room and leaves, but Sonalika stops her. Sonalika questions Prerna why was she staring at her? Prerna says that she thinks she knows her from the past.
The servant says to Sonalika that Mohini is calling her. Prerna thinks that Sonalika's face got expressionless when she told her that she knew her. Prerna thinks to check her wardrobe to find something.
Prerna is checking Sonalika's wardrobe and Anurag comes over there. Anurag questions what is she doing with Sonalika's wardrobe? Prerna says that she came to take the saree. Anurag gets angry that Sonalika asked her to bring it. Sonalika comes over there and questions what is happening?
Prerna says that she was about to leave. Sonalika takes her leg out and Prerna falls, but Anurag holds her. Anurag says to Prerna that she should have taken care as the baby could get hurt. Sonalika says that it was her mistake as she was going to take the phone. Anurag says to Prerna that she should have taken care of her.
Precap: Anurag calls Prerna that she was thinking about her and her baby. Sonalika thinks to end the baby!