The Kasauti Zindagi Ki 2 episode begins with Prerna questions the goons who want to kill them? Prerna asks them to leave her. A man comes there with different kinds of knives. The person asks his Jiju (Ronit's goon) to use the knife on Prerna. He asks Jagga (the goon) whether he can put a small cut on her. (Check: Kasautii Zindagii Kay 2 Written Updates.)
Jagga asks Prerna not to talk with him as he is very mad to kill someone. Anurag asks everyone to divide for finding Prerna. All of them leave to different areas to find her. Veena questions Moloy who has kidnapped Prerna? Suman says that her heart says that she is thinking right.
Suman says that someone has kidnapped her for revenge. Suman questions Sonalika whether she is right? Sonalika says that Prerna might have a fight with someone so the person might have kidnapped her to take revenge. Moloy says that once they get to know about the person, they will not leave.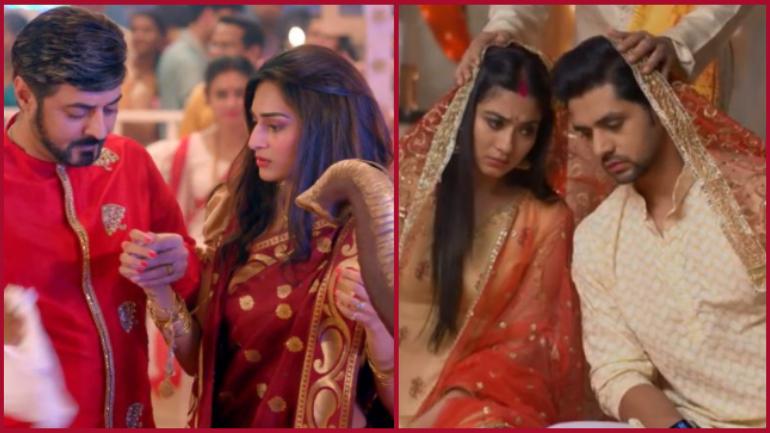 The commissioner calls Moloy and he puts the phone on speaker. He informs them that he has good news that they have checked the footage and the girl has been shifted to a car from the tempo. He informs that the car driver was Jagga and they are finding out other details also. Sonaliak gets shocked after hearing it.
Jagga was going with other goons outside and asks his brother-in-law to go back home as her sister is waiting for him. Jagga's brother-in-law shows the knife to Prerna that it can be used to kill anyone brutally. He asks her whether he can kill her? She says that he is mentally sick.
He puts the knife to her neck and laughs at her that she got scared. He keeps on sharpening his knife. Veena prays to Goddess to save her daughter as she is pregnant. Veena begs to save her daughter. Veena starts praying until she finds her daughter. Moloy and Suman also get emotional seeing her.
Viraj and Anurag come to the forest but get stuck as there are two ways. Anurag looks at Prerna's anklet on the road over there. Anurag tells Viraj about it and they drive to that route.
Sonalika thinks that she can't kill Prerna herself as Anurag has gone to find her. Sonalika thinks that the police also know about Jagga. Sonalika thinks that she will make Jagga kill Prerna now. Sonalika calls Jagga but he doesn't pick it as he is outside.
Jagga's phone starts ringing inside. Prerna looks at the phone. Jagga's brother-in-law picks the call and it shows the Boss's name. Sonalika asks him to kill Prerna before the police reach to him. Prerna gets shocked after hearing him.
He opens Prerna's hand and says that he will give her one chance to run. He says that he will count till 5 and then she can run. He tells him about two gates to leave from the place. He says that he will put the knife in her stomach after catching her. Prerna gets up and he asks his goons not to interrupt.
He starts counting and throws the knife on her. Prerna hides behind the boxes. He catches Prerna but she throws him. Prerna beats his leg with a box. He starts shouting and Jagga and other goons hear him. Prerna hides from there. Jagga and his goons come there. Anurag and Viraj come to a cottage and thinks that they have to go safely while walking.
Precap: Sonalika comes to kill Prerna. Sonalika asks his goons to throw Prerna from the hill. Anurag comes to hold Prerna but she falls from the hill!