The episode begins with Shivani says to Prerna that she has seen Sonalika with Ronit. Prerna says that Sonalika might be talking with someone else. Sonalika comes out and talks with a servant. Prerna says to Shivani that it is the servant. (Check: Kasautii Zindagii Kay 2 Written Updates.)
Shivani says that she has seen Sonalika with Ronit. Sonalika turns back to see, but Prerna and Shivani hide there. Sonalika goes inside from there. Shivani says to Prerna that Anurag is staring at her. Komolika gets angry that she can find Prerna by following Anurag as he is always behind her.
Anurag was coming to talk with Prerna but Sonalika interrupts in his way and takes him with her. Prerna questions Shivani when Sonalika is inside the party, then where is Ronit? Ronit is holding a knife and stands behind Prerna. Sonalika takes Anurag to Mohini and says that he was busy with his secretary.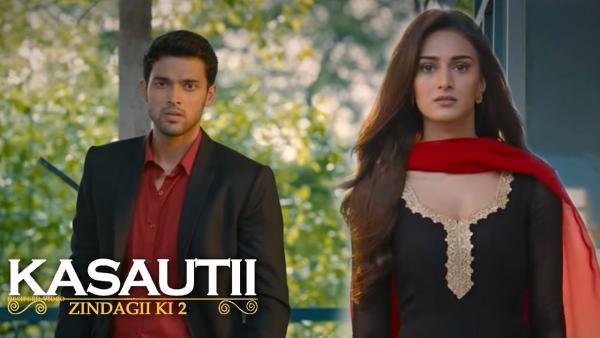 Mohini says to Anurag that he should stay with her. Anurag goes from there to Prerna. Ronit was about to hit Prerna but Anurag comes to Prerna that he was finding her. Prerna thinks that she has seen Ronit but Anurag stops her from going anywhere. Anurag says to Prerna that she should take care of herself.
Anurag takes Prerna to sit and asks Shivani to take care of her. Mohini and Sonalika stare at Anurag as he is with Prerna. Mohini calls Anurag and he goes to stand with them. Prerna is sitting on the chair and Shivani is also with her. Shivani says to Prerna that she can't find Ronit.
Ronit goes upstairs and breaks the chandelier's rope to make it fall on Prerna. Sonalika looks at Ronit cutting the chandelier's rope. Shivani goes from there for a minute. Prerna gets happy that Anurag cares a lot for his child. Anurag looks at the chandelier and runs to save Prerna.
Anurag takes Prerna away and the chandelier falls on the floor. Anurag says to Prerna that he will not let anything happen to her. Komolika gets angry as Prerna is fine. Komolika goes behind Ronit and asks him to leave the party. Komolika asks Ronit to hide in the car's boot.
Anupam comes outside to find the person and looks at Sonalika standing outside. Sonalika tries to act that she feels like vomiting so she came outside. Sonalika says that she doesn't feel well, so she is going home. Anupam gets doubt on her.
Anurag asks Prerna and Shivani to go home. Prerna says that she is fine. Anurag says that he will drop them. Anurag asks Nivedita to take Mohini and Sonalika home as he is going to drop Prerna and Shivani.
Komolika takes out Ronit from the car. Komolika shouts at him why can't he kill Prerna? Komolika puts a gun on Ronit's head. Prerna asks Anurag to take to Buaji's home as they have stayed there for some time.
Ronit asks for one chance from Komolika. Komolika says to Ronit to use the gun when he looks at Prerna. Anurag stops his car as Komolika's car was over there restricting the way. Komolika looks at Anurag and signs Ronit to hide. Anurag comes out and Sonalika says to Anurag that her car got bad.
Sonalika questions Anurag what is Prerna and Shivani doing with him? Anurag says that he was dropping them. Sonalika sits in her car and leaves from there.
Precap: Anurag calls Prerna whether she is fine? Prerna questions Anurag why is he so concerned about her and her family? Prerna questions what does she mean to him? Anurag says that he has recalled everything and points at Komolika!