The episode begins with Anurag says to Prerna that he will fill her forehead with his vermilion in front of Goddess Durga. Anurag takes the vermilion and put it on Prerna's forehead. Prerna hugs Anurag and both of them get emotional. Both of them recall their memories when they met each other. (Check: Kasautii Zindagii Kay 2 Written Updates.)
Anurag says to Prerna that Goddess Durga is witness to their marriage. Prerna says to Anurag that she wants a proper wedding with every ritual. Prerna says that she wants to sit with him on the wedding Mandap. Anurag says that all her wishes will get completed tomorrow at their wedding. Both of them confess their love for each other.
Ronit questions Komolika until when she will leave the room? Komolika says that she wants Anurag to look at her and get mad for her. Ronit says that she is still mad at Anurag. Komolika says that she is alive because of him otherwise she would have died. Komolika says that something is left between Anurag and her.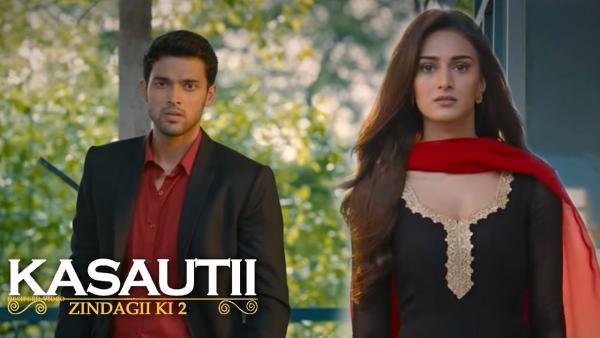 Mohini says to Anurag that she wanted him to choose the wedding Lehenga for Prerna. Anurag hugs Mohini and goes to get ready. Kumud says to Mohini that she finally accepted the servant's daughter. Mohini says that she will never accept Prerna but doing it all for Anurag's happiness.
Kumud says that she has bent down in front of her daughter-in-law. Mohini says that she doesn't need to worry much about their matters. Anurag comes out and gets hit with Prerna. Anurag gets worried for Prerna and Prerna says that it is his love. Mohini comes over there and gives the wedding Lehenga to Prerna.
Mohini makes Prerna wear the family bangles and bless both of them. Moloy and Anupam get happy to see Mohini accepting Prerna. Mr. Bajaj comes over there and announces that he has made all the arrangements. Moloy says that they were thinking to do it all together. Mr. Bajaj says that he was awake last night so he made all the arrangements.
Kukki comes over there and says to Prerna that she will make her get ready. Mr. Bajaj asks everyone to get ready as they have a lot of work after getting ready also. Moloy leaves with Moloy and Anupam.
Anupam is selecting his outfit and gives one to Moloy also. Moloy questions which outfit he is going to wear at night. Anupam denies telling him or else he will also wear it. Moloy asks Anupam to go and do all the preparations. Moloy takes Anupam's outfit and hides it.
Mohini is busy with all the preparations. Kumud questions Tapur about Nivedita's health. Tapur says that Nivedita is fine but still have a plaster. Tanvi says to Rishab that she told everything to Anurag herself and apologize for it. Rishab says that everything is fine. Mr. Bajaj compliments Anurag as he is looking good.
Anurag goes to check why Pandit Ji hasn't come! Masi says to Rishab that she can find it is very difficult for him to hide his feelings. Rishab says that he will leave after everything. Mohini compliments Anurag and blesses him for his wedding. Mohini is scared that Prerna is coming into his life.
Ronit informs Komolika about Anurag and Prerna's marriage. Komolika gets angry after hearing it. Komolika says that she will stop this wedding.
Precap: Mr. Bajaj says to Prerna that he and Kukki will miss her. Prerna tells Anurag about her pregnancy and he gets happy. Komolika hits on Anurag's car with her car!