The episode begins with Komolika thinks to stop Anurag and Prerna's wedding. Ronit tries to stop Komolika but she slaps him. Ronit stops her that nobody is going to get happy to see her back as she planned Moloy's accident. Ronit says that they will hand her over to the police. (Check: Kasautii Zindagii Kay 2 Written Updates.)
Komolika says that she can't stay quiet just from the police's tension. Komolika hits Anurag and goes from there. Prerna is getting ready with Kukki's help. Mr. Bajaj comes over there and gets happy to see both of them together. Masi looks at Rishab staring them. Mr. Bajaj says to Masi that he wants to leave from here as he can't see Prerna getting married.
Mr. Bajaj asks Masi to take Kukki with her. Mr. Bajaj comes to Prerna's room with Masi. Masi compliments Prerna and asks Kukki to come with them. Prerna questions why they are leaving so early? Mr. Bajaj says that they have to catch their flight. Mr. Bajaj says that he has made Kukki understand everything.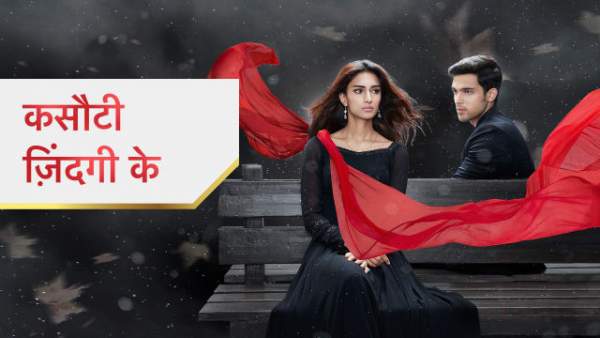 Kukki kiss on Prerna's cheek and goes outside with Masi. Mr. Bajaj says to Prerna that he and Kukki will miss her. Mr. Bajaj gives a letter to Prerna that she should read it after they leave here. Mr. Bajaj says to Prerna that he will miss her and leaves from there. Prerna opens the letter and reads it.
Prerna reads that Mr. Bajaj has written that he is always with her whenever she needs him. Komolika sits in her car and leaves to stop the wedding. Anurag comes to Mr. Bajaj that why they are leaving so early? Mr. Bajaj says that they have to catch their flight and ask Anurag to take care of Prerna or else he has to return.
Mr. Bajaj says to Anurag that they will meet only if Anurag didn't love Prerna the way she deserves. Anurag comes to Prerna and compliments her. Anurag tells her that Pandit Ji just came now as he was busy in distributing Goddess' chunni. Prerna says that he could have to bring one for her also.
Anurag says that he will bring it to her. Prerna denies him not to go, but Anurag says that he will bring it soon. Prerna reveals Anurag about her pregnancy news. Anurag gets happy to hear that he is going to become a father. Anurag recalls when they were close while hiding in the jungle.
Mohini stops Anurag that he should not go now. Anurag says that he wants to bring the Goddess Durga's chunnari and runs to take it. Moloy laughs that he is like his father as he always behind his wife. Nivedita returns and everyone gets happy to see her. Moloy runs to meet Nivedita and she gets happy to see him.
Komolika recalls her marriage with Anurag. Komolika thinks that Anurag is already married to her. Komolika thinks that Anurag loves her as he tried to save her from falling in the river. Komolika drives her card and disconnects Ronit's call. Anurag takes the canary and sits in his car to drive back home.
Komolika and Anurag get stuck in the traffic without knowing each other's presence. Komolika looks at Anurag over there. Anurag drives from there and Komolika also follows him. The weather changes suddenly and everyone gets worried about it. Prerna feels that something bad is about to happen.
Precap: Komolika hits Anurag's car and makes him fall into the river. Prerna feels worried about Anurag!