The episode begins with Prerna asks the lady for the phone as she has to call her husband. The lady says that the mobile tower doesn't come here as the place is near the jungle. The lady gives Kada to Prerna so that she can feel good. Prerna drinks it. (Check: Kasautii Zindagii Kay 2 Written Updates.)
The lady asks the servant lady to show the washroom's direction to her. Prerna goes with her. Sonalika shouts at Jagga to find Prerna either dead or alive. Jagga says that she ran away. Sonalika puts a knife on his neck and asks him to find Prerna. Ronit comes to her that they should think about finding Prerna now.
Anurag calls Sonalika and says that his phone is also about to switch off. He says that he has important information so she can call the police and inform about the jungle's location. Sonalika gets shocked that he has found the location. He says that he can see light at the place. Sonalika gets shocked after seeing that Anurag is standing outside.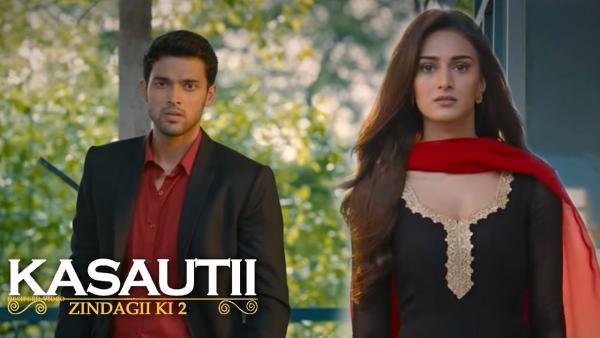 He asks her to inform Baba and send a team here. Ronit tells Sonalika that Anurag is coming inside the cottage. Sonalika asks everyone to hide. Anurag can't see anyone in the cottage. Anurag finds a knife over there.
The lady introduces Prerna to her daughter who is also pregnant. Prerna says that some goons were behind her so she came here. Prerna says that she needs to call her husband and inform him. The pregnant lady says that her young brother's phone has a network so she can use his phone once he returns.
Ronit signs every one to leave from the place. All of them go outside, but one goon gets stuck there as Anurag is there. Prerna denies to eat food, but the pregnant lady asks her to eat it for her baby. Someone knocks at the door and everyone makes their gun ready.
Everyone gets shocked to see Sanju's (Jagga's brother-in-law) condition as his leg got hurt. He says that he got hurt by mistake. Her sister takes his phone and asks the servant to give it to the girl. He questions which girl? She says that she is older than him so she should call her Didi.
Jagga also returns home and informs everyone that a girl pushed Sanju so his leg got hurt. Jagga says that she ran from the forest being pregnant. All of them think about Prerna.
Prerna takes the phone and gets shocked to see Sanju's photo on it. Sanju and Jagga see her. All of them come to throw her out. Prerna closes the door, but all of them opens it. Sanju's mother takes Prerna outside.
Jagga informs Sonalika that Prerna is at his house. Jagga tells everything and she says that she is coming to his house.
Prerna says that she called her like her daughter so she should let her leave. Sonalika comes there. Prerna says that she should have understood it before. Prerna says that she is such a coward to take goon's help to fight with her. Sonalika asks Jagga to bring her outside.
Jagga's wife denies him not to touch her before she doubles the money. Prerna starts laughing and slaps Sonalika. Jagga hits on Prerna's had and his wife holds her. Jagga takes Prerna on the forest hill. Anurag catches one goon who was present at the cottage.
Precap: Jagga throws Prerna from the hill. Anurag runs to hold her, but she falls!