The episode begins with Prerna gets worried as Anurag and Komolika are not in the farmhouse. Prerna comes to Shivani. Prerna says that Komolika and Anurag are here. Shivani says that they might be here only and asks to switch on the light. Prerna switches on the light. (Check: Kasautii Zindagii Kay 2 Written Updates.)
Moloy asks Prerna to stay here as it is very late. Prerna says that they will leave. Mohini says that she will send the driver with her. Moloy says to Mohini that Prerna can speak herself. Prerna asks them not to worry as she will go. Mohini goes and Nivedita also follows her.
Prerna apologizes to Moloy that they got into a clash because of her. Prerna asks him to take a rest. Prerna gets a video call from Sonalika and she goes to a corner. Komolika says that they are in a hotel and not in the farmhouse. Komolika says that she feels sad about her as she came to the farmhouse after so much planning.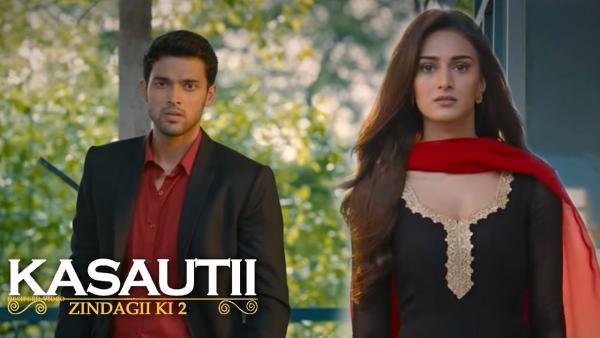 Prerna says that she has trust over her love. Komolika puts some sedation pills in Anurag's drink and mixes it. Prerna asks her to stop it. Komolika switches off Anurag's phone in front of her. Prerna questions where they are? Komolika says that she can try to stop them if she wants. Komolika shows Prerna that Anurag has come into the room and disconnects the call.
Sonalika serves the drink to Anurag but he denies it. Sonalika says that she has many more pills to make his drink again. Sonalika goes outside for a minute. Anurag thinks to call Prerna but his phone is missing.
Prerna tells everything to Shivani. Prerna questions from Anupam where is Anurag? Anupam says that he doesn't know about it. Prerna leaves with Shivani. Komolika uses the card in the hotel for Champagne. Anupam receives a message related to the card getting swiped in hotel starlight.
Sonalika comes to Anurag and says that the hotel is really good as they have gifted them a Champagne. Anurag questions about his phone? Sonalika says that his phone was at the farmhouse in mom's room so she thought it was not his. Anurag says that he will confirm from mom.
Sonalika says that he should not disturb her in the late night. Anurag says that he wants to call Prerna. Sonalika calls herself to Prerna in front of him but shows that she is not picking it.
Anupam says to Prerna that father-in-law has issued cards for all of us and someone makes a transaction so they get a message. Anupam tells about the hotel to Prerna and she asks him to message it to Shivani.
Sonalika starts coughing and Anurag asks her to drink the water. Sonalika says that the taste of water is not good and asks him to taste it. Anurag drinks it and starts falling unconscious.
Prerna makes a plan to use Ronit. Prerna and Shivani reach to Ronit's house. Prerna starts talking with Shivani that she can tolerate it now. Ronit hides to hear them. Prerna says to Shivani that she will hire assassins to kill Komolika. Prerna says that she would have killed Ronit if he was at his home today.
Prerna calls her assassin and sends the details of Komolika to kill her. Ronit gets shocked to hear this. Prerna receives a video call from Sonalika and goes in a corner to talk with him. Ronit thinks to reach the hotel soon.
Precap: Komolika shows Prerna how she made Anurag unconscious. Prerna comes to the hotel with the police to get Komolika arrested!