The episode begins with the opposing lawyer calling Masi in the witness box. The lawyer questions Masi about Veena's relationship with Rishab. Masi says that Veena doesn't like Rishab. Masi says that she gets into a fight with Veena and Veena confesses that she will never accept Rishab as her son-in-law. (Check: Kasauti Zindagi Ki 2 Written Updates.)
The lawyer questions whether Veena attempted to kill Mr. Bajaj with the hanging. Masi accepts it, but Prerna gets up that the lawyer is pressurizing Masi. The lawyer says that it is the truth. Prerna's hired lawyer sits down without putting any question. Masi recalls when she bribed Prerna's lawyer to lose the case.
Anupam goes out of the court and calls Anurag. Anurag is stuck in the traffic. Anupam informs Anurag that Veena aunty's lawyer is acting like he wants to lose the case. Anurag says that his lawyer is outside so he can take over the case. Anurag calls his lawyer to take over the case. Prerna calls Anurag but his call is busy.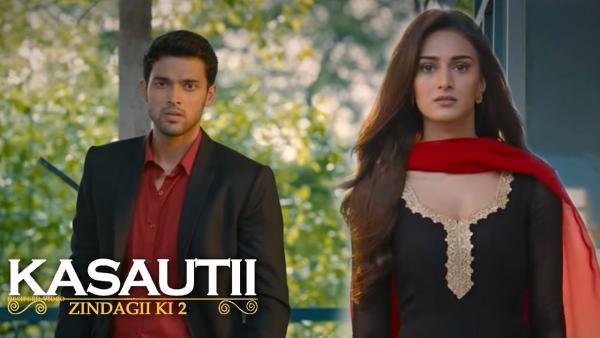 The opposing lawyer calls a servant who was working with Veena at the party. The lawyer asks him to speak everything he looked over there. He says that Veena aunty went upstairs alone and made the hanging fall on Mr. Bajaj. He says that it was all intentional job.
The opposing lawyer questions Veena whether she liked her son-in-law or not. Veena recalls when Prerna married Mr. Bajaj and Mohini insulted her. Veena recalls when Nivedita humiliated her to make her daughter marry a rich man. Veena says that she hates Mr. Bajaj.
The judge blames on Veena that she attempted to kill Mr. Bajaj. The lawyer was about to speak the punishment but Mr. Bajaj comes over there. Mr. Bajaj comes in the witness box to speak something. Mr. Bajaj recalls when he heard his assistant talking about the case and everything against Prerna's mother. Anupam also comes in the court with his lawyer.
Mr. Bajaj says that he is a bad person with the people who made a mistake. Prerna gets worried as she recalls when Masi told her that Mr. Bajaj won't leave her mother as she spoiled Kukki's birthday.
Mr. Bajaj says that Mrs. Sharma (Veena) didn't attempt to kill him. Mr. Bajaj says that it is her personal choice to not like him. Mr. Bajaj apologizes from Mrs. Sharma for all the problems created by his family. Mr. Bajaj says that he asked Mrs. Sharma for using an average quality rope other than high-quality rope so it all happened.
The judge releases Veena from the case and everyone gets happy except Masi. Mr. Bajaj was falling and everyone looks at him. Veena signs Prerna to look at him. Prerna comes to Mr. Bajaj and he falls on her. Anurag comes in the court and gets shocked to see them.
Everyone takes Mr. Bajaj as he is very weak to stand. Anurag gets hurt and goes outside of the court. Anurag recalls when he saw Prerna with Mr. Bajaj. Anurag gets broken when he recalls his memories with Prerna. Anurag gets sad after recalling when Prerna said that she has moved on in her life.
Precap: Anurag gets shocked to see Prerna helping Mr. Bajaj for covering his wound. Tanvi says to Masi that she thinks Rishab likes Prerna so he helped her mother. Masi denies that there is nothing like this. Anurag says to Prerna that Veena aunty always liked him. Mohini questions Masi and Tanvi whether they want her help? Tanvi plans to make Prerna and Anurag comes close!