The episode begins with Anurag questions the electrician what work did he do? The electrician thinks that his wife might have got shocked by the current so he is angry. The electrician thinks that the girl (Prerna) looks fine. Anurag question the electrician about the wire in the kitchen? (Check: Kasautii Zindagii Kay 2 Written Updates.)
The electrician apologizes that it was by mistake. Anurag shows him that Prerna is pregnant and if anything has happened to her baby, then he would have killed him. Komolika gets angry after seeing Anurag's reaction and cares for Prerna. Anurag holds the electrician's collar tightly and the bribed money from the electrician's bag fall.
The electrician takes his money from the floor and speaks that it is his money only. The electrician says that it is his salary. Anurag questions him to speak the truth? Komolika starts coughing and Nivedita asks Anurag to bring water for her. Komolika signs the electrician to run away.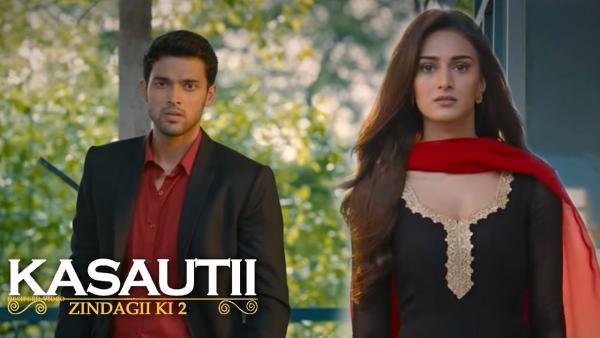 Prerna looks at her and asks Anupam to go behind him. Anurag was also going with him, but Komolika starts coughing badly and Nivedita calls Anurag to be with her. Anurag takes Sonalika to her room with Nivedita. Komolika smiles seeing Prerna's face.
Mohini comes to Sonalika and questions what has happened? Anurag tells about the incident and speaks that she is fine now. Anurag says that the electrician left a wire open by mistake. Anupam comes back and speaks that the electrician has run away. Anupam says that Prerna is not feeling well.
Anurag gets up to go to Prerna but Mohini and Sonalika try to stop him. Anurag says that he has to go as he has promised her. Anurag takes Prerna to the hospital with him. Sonalika comes to stop him, but he doesn't listen to her. Sonalika shouts at Anupam that he should not have informed Anurag about Prerna's condition.
Sonalika shouts at Anupam that she needs her husband's support at the moment and throws away things. Sonalika warns him not to do this again with her and leaves from there.
The doctor looks at Anurag and Prerna and recognizes them. Prerna thinks that the doctor is not aware of Anurag's memory. The doctor questions Prerna how did the pain start like this? Anurag was getting anxious. The doctor says that she can understand the first time the father becoming feeling as he gets anxious and worries.
Anurag says that he feels like he is also getting this kind of feeling. The doctor questions why is he talking so strangely? Prerna interrupts and speaks about her pain to the doctor. The nurse comes to Anurag and asks him to complete all the formalities.
The doctor questions Prerna why Anurag is behaving like this? Prerna says that Anurag has lost his two year's memories in an accident. Anurag comes to Prerna. The doctor makes him hear the baby's heartbeat. Prerna's baby hit her and Anurag also feels the baby's kick. The doctor asks Anurag to bring the medicine and then she can discharge her.
Two nurses are talking with each other that Prerna's husband is so bad as he left her in this condition. She says that Prerna's husband is so bad as he is with some other girl and Prerna is so innocent. Anurag hears their conversation. Anurag thinks to find out Prerna's husband.
Precap: Anurag questions Prerna about her husband's name and address. Prerna says that he is out of town. Veena says to Prerna that Anurag is married. Anurag says to Sonalika that he feels like his past is connected with Prerna!