The episode begins with Prerna crying badly after recalling when Anurag asked her to marry Viraj. Shivani comes there and questions why she accepted to marry Viraj? Prerna says that she did it for mom as her health could have got worse. Prerna says that Viraj will deny for the marriage now. (Check: Kasautii Zindagii Kay 2 Written Updates.)
Veena makes all the things ready for Viraj's welcome. Anurag comes with Viraj and his family. Sonalika also comes with Anurag. Anurag introduces everyone to each other. Veena comes to Prerna and says that Viraj is a nice guy. Veena asks Prerna to get ready and come downstairs.
Prerna is lost in her thoughts. Veena consoles her that it will be good for her. Veena says that a mother knows about her daughter's happiness. Veena goes and asks her to come soon after getting ready. Anurag says to everyone that Sonalika made all the arrangements.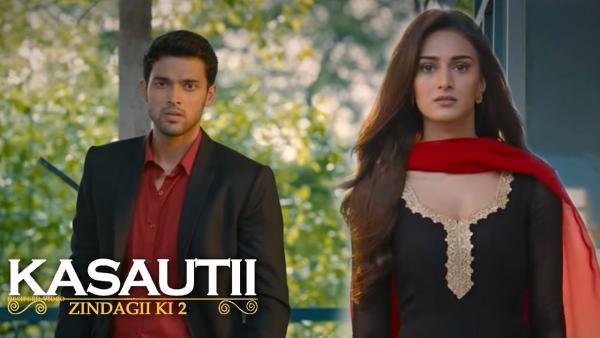 Veena thanks Sonalika and she gets happy that she made her feet down. Sonalika says that she is doing all this for Prerna's happiness which is Anurag's happiness. Sonalika asks to use the washroom and thinks to go to Prerna. Sonalika goes upstairs in Prerna's room and Shivani was also going behind her but Veena stops her.
Veena says to Viraj's family that Prerna is pregnant. Komolika knocks at Prerna's door and compliments saree which Prerna will wear. Prerna questions how did she dare to do it? Komolika says that she is doing it to keep her away from Anurag. Komolika says that she made Anurag realize that people think bad about Prerna.
Komolika says that she made Anurag realize that he should make Prerna get married. Komolika says that her luck is so bad that her baby's father is arranging her second marriage. Komolika laughs that she is enjoying it. Komolika says that everyone is waiting for the pregnant bride. Komolika goes from there taunting her.
Prerna gets ready and was coming downstairs. Everyone looks at her. Prerna greets Viraj's family. Komolika gets happy that Anurag is with her. Viraj's mother compliments Prerna as she is very pretty. Veena says to Viraj's parents that they are not so rich people, but they are proud of having respect towards each other.
Veena says that she will conduct her daughter's bid has with all she can. Veena's hands start shivering and Viraj holds her hand to console her that there's nothing like this. Viraj says that they are sending their daughter along with her baby. Viraj says that he is a very simple man and loves kids.
Viraj says that Anurag might have told them about her wife and unborn child. Anurag says that there's nothing good than two uncompleted souls coming together.
Anurag questions Veena aunty whether she liked Viraj? Veena says a yes! Anurag questions Viraj's parents, whether they like Prerna? All of them say a yes along with Viraj too. Anurag questions Prerna about Viraj? Prerna stays silent. Anurag says that her silence might be her liking. Prerna says that she wants to talk with Viraj before everything.
Prerna goes with Viraj to talk with him. Sonalika says to Veena that she might have made Prerna realize what is good for her! Veena's health gets worse and everyone takes care of her. Prerna says to Viraj that she won't keep him in the dark. Prerna says that she loves her husband even now.
Precap: Viraj and Prerna get ready to marry each other. Komolika says to Prerna that she will be away from Anurag now!