The episode begins with Naveen and his kidnappers taking Prerna. Naveen is shouting at him that he is her future husband. Prerna denies marrying with Naveen. Naveen is in great anger and slaps her saying that she should learn how to speak with her future husband. He adds that don't have any misconception about the fact that he can't harm her family members. He asks her to sit on the Mandap and keep a smiling face.
Pandit Ji's wife takes Prerna to change her clothes for the wedding. Anurag comes to the location where the kidnappers have taken Prerna and try to locate their direction. Prerna feels helpless and is really sad about the situation. Pandit Ji's wife has made her ready in a proper wedding dress.
Anurag is trying to understand the location and reaches the place where he was met with an accident. He thinks about the van's direction and moves forward on that path. Pandit Ji's wife says that she has to take Prerna to the Mandap and after that, it's up to her that she wants to marry or not. She begs in front of Prerna that please come with her or else they'll not leave my daughter. Prerna gets up and moves.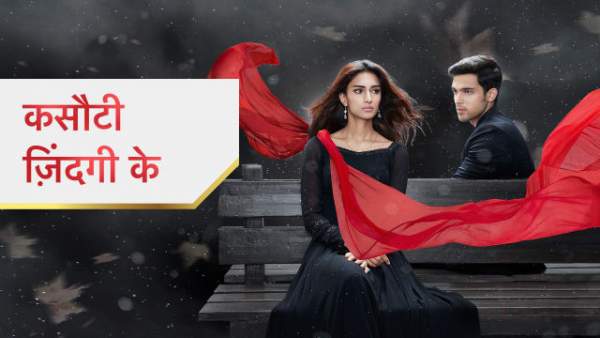 Anurag has reached the location and looks at the van parked outside.
Pandit Ji's wife bids thanks to Prerna for coming with her. One kidnapper informs Naveen that the bride has come. Naveen looks at Prerna with his bad intentions. Naveen comments on Prerna after seeing her. Prerna replies that she has never seen such a pathetic human like him. He says that she gets angry with him, but he loves her anger.
Prerna says that don't think if I've dressed well that means I am ready for this marriage. She says that the lady's responsibility is fulfilled so now leave her daughter. Naveen asks Pandit Ji's wife to take her daughter and leave from the place. Naveen says that he likes Prerna's thought of helping others and ask why she is so helpful in such a cruel world? She replies that she has faith in herself that she is doing the right thing.
Anurag is exploring the way to come inside the place.
Naveen asks Prerna that is she in love. He shouts that had she taken the classroom friendship to love. He asks that she is in love with Anurag Basu. She shouts that she is in love with Anurag and she couldn't even tell it to him since he is committed with Mishka. She says that she loves him so much.
Naveen says that speak it is a lie and she is just speaking it to make him jealous. Prerna says that it's the truth and she loves Anurag Basu. She says that she will love him for the rest of her life and it's the only reason that she can't get married in her lifetime. Naveen says that she has to marry him since he has put his entire life at great risk for Prerna.
He adds that he has got ruined in such a mess so she has to marry him at the right moment. He asks Pandit Ji to begin the rituals and holds Prerna's hand to take her to the Mandap. Prerna bites on his hand and Naveen's team member come to tell him that a fire has occurred at the place. Everyone rushes to check the fire. Prerna is alone and tries to escape from the place. The kidnappers say that the girl is alone, but Naveen replies that she can't escape as all the doors are closed.
Anurag runs to take Prerna and managed to burn the place. Prerna is not able to understand how to escape? She feels that Anurag is present and looks at him behind her. She is really happy and hugs him tightly. Prerna asks that Anurag has got hurt and she has seen him during the accident. She says that don't hide anything from her and tell how hurt he is! Anurag asks her to come down and relax. He says that they don't have time and so they should go to a safe place first. Prerna says that take her from here. He says that he has come here and takes her.
Mohini is worried about Anurag and thinks that he is meeting with so many accidents so she will ward off the evil with the chilli. She comes in Anurag's room, but couldn't see him in his room. She looks at the window and gets to know that he has gone to help Prerna again. Nivedita comes and says that Prerna has taken away Anurag from us. Nivedita says that Anurag has fallen in love with Prerna. Mohini is shocked to hear this.
Anurag is taking away Prerna with her. He says that they'll escape from the windows since the doors are locked.
Naveen gets to learn that Anurag has come at the place and starts finding Prerna. Naveen asks his team to find Prerna and kill Anurag if he tries to become smart. Naveen looks at Prerna from the net.
Moloy asks Shivani that how did she come to know about Prerna's exact location? She says that she has learned it from the ACP and Anurag.
Naveen moves towards Prerna and Anurag but Anurag runs after throwing the boxes on him. Anurag is helping Prerna to get escape from the window, but Naveen hits him from the back.
Precap: Naveen is getting married to Prerna and has tied up Anurag to look at them. Anurag says that don't do this for helping him!