The episode begins with Prerna cries after recalling her memories with Anurag. Shivani comes to Prerna and Prerna says that she has never seen Anurag so happy when she told him about her pregnancy. Prerna says that Anurag has returned now, but he just remembers her as Rajesh's uncle's daughter only. (Check: Kasautii Zindagii Kay 2 Written Updates.)
Prerna says that she is waiting for the time when Anurag recalls his memories. Komolika comes to her room and Anurag is sleeping. Anurag has made a separation on the bed between him and Sonalika. Komolika thinks that Anurag doesn't look at her even now. Komolika thinks that he recalls something from his past.
Komolika recalls when Anurag told that he feels like he is connected with Prerna's family. Komolika thinks that she has to do something with Prerna. Komolika leaves a message to her dad's number that she needs some trustworthy people for her help. She receives a message that she can talk to Somnath near her home.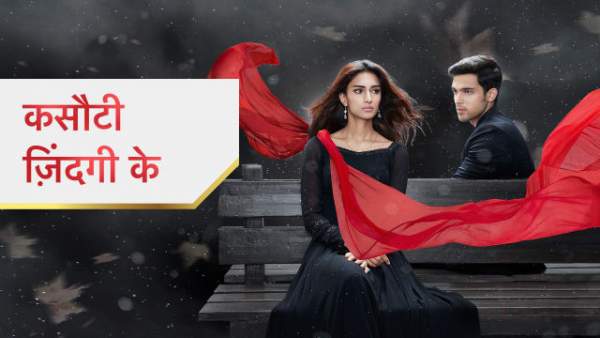 Sonalika says to Anurag that she is on the terrace for some time. Komolika gives an address to Somnath (goon) to burn the house ensuring that everyone is safe in the house. Somnath goes to Prerna's house with his goons and breaks the window glasses to throw kerosene oil in the house.
Everyone is sleeping and no one gets to know about it. Mahesh has put the headphones on his ears so he is not able to hear anything. Sonmath burns the matchstick and throws in the house.
Mahesh looks at the fire and starts shouting. Prerna wakes Shivani and both of them get shocked to see the fire. Prerna comes out from her room with Shivani. Shekhar and Suman also come out after seeing the fire. Mahesh takes Veena out of her room. Prerna stops and goes to bring something.
Shekhar goes behind her to bring her outside safely. Prerna brings her father's photograph of the house. Veena also comes in but gets hit by something fallen on her. Shekhar brings Veena and Prerna outside the house. Veena gets unconscious and falls looking at the house's condition.
Anupam brings Anurag of from the house to talk with him about his memories. Anupam makes him recall that he used to look at the moon when he was tensed. Anurag looks at the moon and speaks that he feels really good after seeing at the moon. Anurag says that he feels like something big has happened in his life.
Anurag questions why did he go to the bridge on that day? Komolika comes outside Sharma's house and gets happy to see it burning badly. Prerna says thanks to her Fufaji for letting them stay at their home. Fufaji says that it is their house only.
Anurag says to Anupam that something important has happened in the past two years. Anupam recalls when the doctor asked them not to make Anurag recall anything or else his condition will get worse. Anupam changes the topic that nothing important has happened in the past time. Anupam asks him to sleep and Sonalika might also wait for him.
Prerna's Fufaji says to them that it might be a Diwali cracker which made the house burnt. Prerna says that she doesn't think so as it was burnt badly. Veena says to Fufaji's wife that she will go back to her village with her family.
Precap: Prerna gets ready to do a job. Prerna was walking on the roadside and her dupatta flew in Anurag's face while he was sitting in his car. Anurag recalls that it has happened before also and stops Prerna without seeing her face!