The episode begins with Ronit shouting at everyone to find Prerna. Ronit gets a call from Anurag and Ronit asks what has happened? Anurag thinks that he can't reveal to Ronit as he will get alert to run from there. Anurag says to Ronit that he was calling his friend Rohan not him, but he is upset that he made a call to him.
Ronit says that he will take revenge from him. Anurag says that Prerna calls him an internet expert as he can find every information from the internet. Ronit disconnects his call. Anurag hears the voice of a British Bell and makes some predictions about the place. (Check: Kasautii Zindagii Kay 2 Written Updates.)
Shivani informs Nivedita that Ronit has come out of jail. Anupam says that Anurag knows about Ronit. Nivedita says that she can find Ronit and all of them leave. Prerna escapes from the place. Anurag comes in silently and starts searching Prerna over there. Prerna calls Anurag with the phone, she has stolen from inside.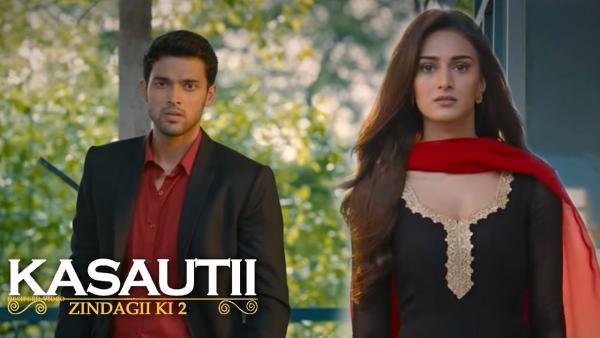 Anurag asks Prerna that where is she? Anurag says that he has come to save her inside the Haveli. Prerna says that she has escaped from there and ask him to come out. Anurag is talking with her and Ronit looks at him. Anurag was leaving from there, but everyone comes with the gun. Anurag asks Ronit what is he doing?
Ronit says that he is so stupid as he came alone here. Ronit ask his team that whose phone was lost today? One person says that his phone is lost and Ronit asks others to kill him. One person shoots him. Ronit says to his hired persons that he won't let anyone go to jail. Ronit says to Anurag that Prerna has run away from here but she won't come back.
Ronit says that he will take his revenge from him. Ronit ask his hired person to bring his wooden stick and the kidnappers trap Anurag. Ronit gets a call from the inspector and he questions where is he? Ronit says that he is at home. Anupam asks the inspector to say to him that he is coming to meet him.
Ronit says to the inspector that he has gone out for taking his father's medicine. Nivedita says that now Ronit will come home and then they can trap him. Prerna comes in hiding to help Anurag. Prerna looks at Anurag trapped with the ropes. Anurag comes to him and starts fighting with him that why did he come here?
Anurag says that she should leave from there. Prerna opens his ropes and both of them are fighting with each other. Prerna gets emotional that Ronit could have done anything and hugs him. Anurag says that they should escape first.
Both of them were leaving from there, but Ronit comes from the back and hits Anurag on his head. Anurag falls down and Prerna asks him to open his eyes. The kidnappers take away Prerna from him. Ronit says to Prerna that she said to him that Anurag will not leave him if he gets to know that Ronit has slapped her.
Anurag gets up and beats Ronit. Anurag fights with all the kidnappers. Ronit gets up and Anurag beat his hand with which he has slapped Prerna. A kidnapper comes and points gun on Anurag. Anurag recalls that he was Ronit's person to get him stuck on the road. Ronit ask his kidnappers to take them away.
Ronit has tied up Anurag and Prerna upstairs and there is iron rode placed on the downside.
Precap: Anurag is talking with Prerna and confesses his love while hanging there. Mohini says to Vinita to leave her family and Veena says that Prerna is married to Anurag. Ronit ask his kidnappers to push Anurag!