The episode begins with Prerna was about to fall and Anurag lends his hand but Viraj holds her. Anurag takes his hand back. Sonalika says that Viraj wants to hold Prerna's hand to show care. The priest questions about Tilak's Thaal from Anurag and he goes to take it. (Check: Kasautii Zindagii Kay 2 Written Updates.)
Sonalika says to Prerna that she will soon be out of Anurag's life. Sonalika says that last night when she was sleeping with Anurag, then he had a dream of a girl who is going away from him. Sonalika says that she knows it was her in his dream. Sonalika says that Anurag's subconscious mind is also accepting that Prerna is going away from him.
Prerna says that she also had the same dream and when she talked with a priest about it, then he told her that the man's heart and mind are connected with her. Prerna says that Anurag might not remember anything, but his heart and soul are connected with her. Prerna says that Anurag will recall everything in Tilak's ritual.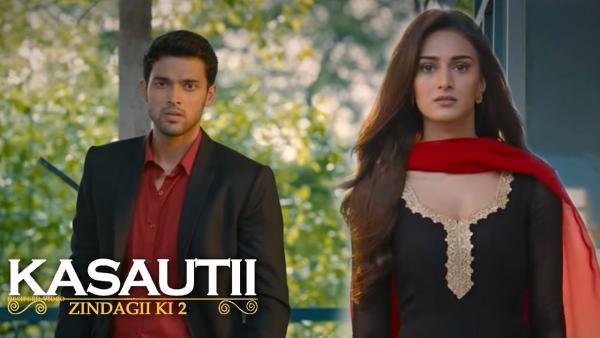 Prerna says that Anurag will stop the marriage himself. Prerna says to Komolika that she can't separate her from Anurag. Komolika leaves from there. Sonalika gets worried and thinks about what will happen now! Sonalika gets worried that dreams become the opposite in reality. Sonalika thinks to talk with Anurag.
Prerna is looking at the moon and Anurag sees her from behind. Anurag comes to her with the Thaal. Prerna looks at it. Anurag questions whether he can ask something from her? Anurag questions whether she is happy? Prerna questions whether he is happy? Anurag says that he thinks that both of them don't have an answer.
Prerna says that she will be happy when her husband recalls everything. Anurag tie-up a black thread on Prerna's hand to protect her and her child. Anurag's hand gets filled with the sindoor and he sprinkles it from his hand which goes on Prerna's forehead. Prerna's forehead gets filled with the Sindoor and she gets happy after seeing it.
Anurag asks Prerna about the nuptial thread. Prerna hides it that she is not married yet. Anurag says that she loves the way she is attached to someone like this. Sonalika looks at Anurag and asks him to get ready. Sonalika makes Anurag's outfit dirty thinking that he will not attend the ritual now. Sonalika thinks to check whether Anurag can recall anything.
Mohini says to Veena that she is very happy. Veena says that she is happier than her. Mohini says that she might be happy because her daughter is getting married. Veena says that she is happy because her daughter is moving on with a decent guy.
Mohini says that Anurag has found the decent guy and he is very good at winning everyone's heart. Veena says that it is the reason why Prerna loved Anurag so much! Mohini questions Veena whether she will accept a pregnant lady for Mahesh so she should thank her! Veena says that she will thank god as she will get rid of her bad talks.
Veena gets slipped and her footwear gets out from her leg. Viraj takes the footwear to make her wear. Veena denies it, but he says that it is her Aashirwaad for him. Shivani goes to tell Prerna about it.
Anurag looks at his outfit. Sonalika questions what has happened? Anurag says that oil spilled on his outfit. Sonalika shows a chunnari to Anurag and he recalls some blurry memories.
Precap: Anurag looks at Prerna when she sits with Viraj for the rituals. Anurag recalls some blurry memories!