The episode begins with Komolika looking at Anurag holding Prerna in his arms. Anurag says to Prerna that she falls down, again and again, to come in his arms. Prerna asks him to leave her. Anurag says that she doesn't have manners to talk with her husband. Prerna says that she will bite if he will not leave her. (Check: Kasautii Zindagii Kay 2 Written Updates.)
Anurag leaves Prerna and she falls on the floor. Komolika is listening to all this and gets angry. Anurag says that he will hold her up again if she wants him to. Prerna asks him to stay away from her and stop flirting. Anurag says that he doesn't know to flirt. Prerna gets up and leaves from there.
Komolika looks at Tapur's in-laws and greets them. Sahil's mother asks from Mohini about her daughter-in-law. Mohini was about to introduce Komolika, but Prerna comes over there. Prerna performs Sahil's aarti and welcomes his family.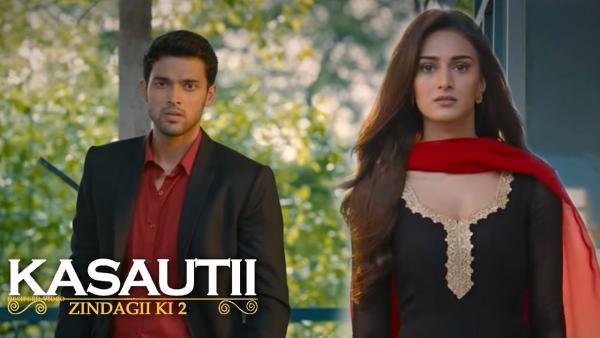 Sahil's mother compliments Prerna and says that they want their daughter-in-law to adopt the same beliefs as Prerna. Komolika leaves from there and Mohini goes behind her. Mohini says to Komolika that she will clear this confusion within some time. Sahil's mother calls Mohini and she leaves.
Prerna gets hit with Anurag and thinks that he is looking really handsome. Prerna was about to leave, but Anurag holds her hand. Anurag asks her to compliment him that he is looking handsome. Prerna says that it is nothing like this as she wasn't thinking like this. She was leaving, but her bracelet got stuck with his shirt wrist button.
Anurag asks her to come close to him as he wants to say something. She comes close and both of them are close to each other. Anurag says that she is looking very beautiful, especially with the Bindi. Prerna looks at Vikrant standing behind him and go to him. Anurag gets jealous to see him. Komolika thinks to take advantage of Anurag's jealousy.
Komolika comes to Prerna and Vikrant to say them not to do any meeting today. Komolika calls Anurag and asks him to make them understand that they should not make any meeting as it is Tapur's engagement. Komolika says to them that they were desperate to meet each other, so making an excuse for the meeting.
Sahil comes there and hugs Vikrant. Sahil introduces Vikrant as his relative's son and his brother. Vikrant says that he wasn't aware of Tapur and Sahil says that she was in the hostel till now. Vikrant leaves with Sahil to meet his family. Komolika's friends come there and call her.
Vikrant comes to Komolika and says that she can't keep him away from this house. Komolika says that he can't even think about what she is thinking! Vikrant says that he will take revenge with Prerna for the people she has destroyed in Meerut.
Nivedita and Anupam were performing dance and Anupam got hurt. Komolika comes to Anurag to ask for the dance. Anurag denies saying that he has got hurt in his leg. Vikrant asks Prerna to dance with him. Prerna holds his hand to dance and Anurag gets jealous of it. Anurag is feeling jealous to see Prerna dancing with Vikrant.
Prerna imagines Anurag with her while dancing and gets upset after seeing at Anurag.
Precap: Anurag warns Vikrant to stay away from Prerna! Komolika asks a waiter to serve the drink to Vikrant which is spiked and Prerna gets to know about it!