The episode begins with Anurag speaking that Prerna was always with him. Mohini says that he is right since Prerna is such a blessing for them and rescued Anurag from the jail. Prerna was about to enter the house, but Anurag asks her to stop. Mohini performs Prerna's aarti and everyone welcomes her in the home. (Check: Kasautii Zindagii Kay 2 Written Updates.)
Mohini says that she wants to see her as Anurag's wife and her daughter-in-law. Anurag says that he preponed their wedding day. Prerna thinks that tomorrow is her marriage with Mr. Bajaj and gets worried. Mr. Bajaj is selecting a saree for Prerna in red color. Ronit comes to Mr. Bajaj and says that he never thought he could betray him so badly.
Mr. Bajaj questions what he wants to talk about? Ronit says that he played a bad game and told about his truth to them. Ronit says that he forgets the deal between them. Mr. Bajaj says that chess is a good game and sacrifice is a must for reaching victory. Ronit says that he is the king then why?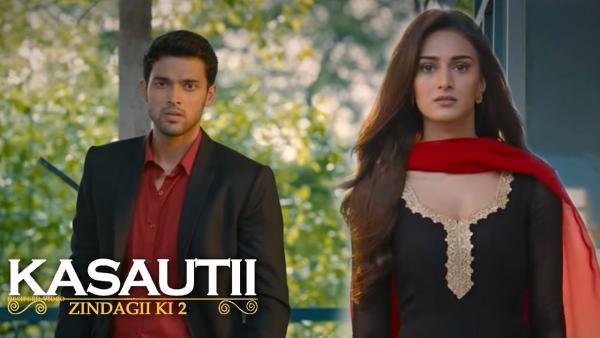 Mr. Bajaj says that Prerna is the queen and he is going to marry Prerna. Ronit says that she is going to marry Anurag Basu. Mr. Bajaj says that tomorrow is his wedding with Prerna. Mr. Bajaj gives money, visa, passport, and everything to Ronit to fly away somewhere.
Ronit says that he is not going anywhere and just want to take over Anurag's property and everything. Mr. Bajaj says that he is giving him a chance and Ronit accepts it. Ronit says that he will return to take revenge from all of them.
Nivedita informs Prerna that Pandit Ji is matching her Kundli with Anurag's Kundli to find a perfect time for their wedding. Veena says to Pandit Ji that he should have informed them before about it. Pandit Ji says that Hawan and Pooja will be conducted and everything will be fine.
Anurag takes Prerna with him in the room. Prerna questions Anurag what is happening? Anurag says that Pandit Ji is a very knowledgeable person so he has told that their marriage before was not complete which means they didn't marry completely. Anurag says that they will complete their marriage tomorrow with all the rituals.
Anurag takes the vermilion and says that he will apply on her forehead today. Everyone sits down for the Hawan. Prerna says that she will apply the vermilion herself. Anurag removes the vermilion from her forehead and says that he is ending their half marriage. Anurag takes out the thread they put on each other in the temple.
Anurag says that their half marriage has ended now. Prerna is crying badly and Anurag says that the Hawan will finish their half marriage. Prerna says that she doesn't want to lose him and hugs him. Nivedita comes there and shows them the wedding card. Nivedita asks Prerna not to cry.
Anurag goes to give his wedding card to Mr. Bajaj. Mr. Bajaj says that he will come if Anurag gets married. Mr. Bajaj says that he is also getting married and his wife wants it to happen privately. Anurag says that he is happy for him.
Prerna is feeling bad after recalling her memories with Anurag. She is crying badly for everything. Anurag calls Prerna and she picks up the call. Prerna says to Anurag that she has done everything for him so he should not misunderstand her.
Precap: Prerna comes to Mr. Bajaj's house. Mr. Bajaj says that she can't live without Anurag but he broke them. Mr. Bajaj says that it is his victory!