The episode begins with Prerna saying that she doesn't see anything on Komolika's forehead, but she has applied vermilion for Anurag. Komolika says that let's assume that you are married to Anurag so she might have any proof like a photograph or something. (Check: Kasautii Zindagi Kay 2 Written Updates.)
Vinita has brought breakfast for Prerna but she is not the room. Vinita finds her in the balcony and bathroom, but she is not there. Shivani comes and Vinita asks about Prerna from her. Shivani says that she doesn't know where Prerna is! Vinita gets worried for Prerna.
Mohini holds Prerna's hand to get her out. Anurag speaks the word "mother" and everyone gets shocked to see his reaction. Prerna says that she has equal rights in this house as Mohini have so she doesn't think anybody can throw her out of this house. Mohini shouts at Prerna that she has created enough spectacle and she is not a kid that they explained to her about the wedding rituals again and again.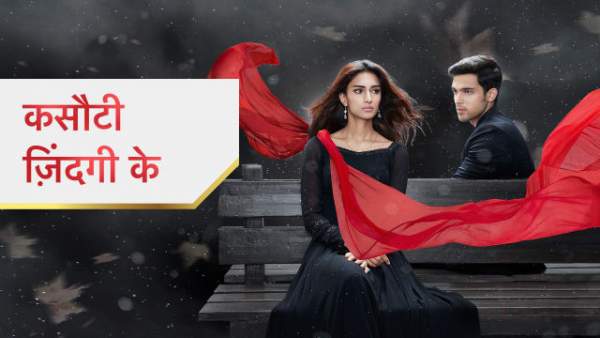 Mohini asks about any proof from Prerna. Prerna asks Anurag that, does he need proof? Komolika replies with a yes that all of us want the proof.
Prerna asks Komolika that what is important for the marriage like those photos, circumambulations, and blessings from the elders? Komolika says that she have fulfilled all the rituals before the holy fire and got married to Anurag in front of the whole world.
Prerna says so that means, customs and the people are above the God and Goddess Durga has witnessed her wedding with Anurag. Prerna says that she will give the proof and goes outside.
Mohini questions Anurag that, has he got married to her? Nivedita asks that she is lying, right? Mohini says that she is just lying and trapping them, but she knows that Prerna won't come back because she doesn't have any proof. Mohini asks the priest to begin the veneration.
Prerna comes outside and asks someone to go inside as it is the right time. Prerna comes in and asks them to stop. Prerna says that all of them wanted a proof as who was there when they were getting married? Prerna says that the priest had blessed them and asks the priest to come inside.
Prerna asks Anurag that did he recognize him as he has blessed them after they got married. Anurag says that yes, he remembers. All of them are in great shock after hearing it. Prerna says that it's great she got to hear some truth from his mouth. Prerna says that when she got to learn about his second marriage, then she tried to stop it the way he had stopped her marriage with Naveen.
Prerna says that when she got to know about it, then she came running to him. Prerna says that she was in grave pain, then went to the temple where they have taken the vows and got shattered before the Goddess and asked why did the Goddess did this thing to her?
Prerna says that at the moment, the priest have me the same vermilion from the Goddess feet which he had given to her.
Prerna recalls the time when she was shattered and went to the temple. The priest came and gave her the same vermilion from Goddess feet, which Anurag applied to her. She recalls when the priest told her that he gave her a platter and the thread in the platter was not an ordinary one as it is given to the couples, but before offering the thread to the Goddess, he hald out it around her neck which was more powerful than the garland so she is a married woman.
The priest asks Anurag that, does he recalls the time when he had come to bless both of them before the Goddess, then both of them were lost in each other and were embracing each other? Mohini questions Anurag that, is it true? Anurag says that it is true. Mohini says that it must have happened, but this can't be considered a wedding.
Prerna says that they got married on an auspicious day which arrives once in 15 years and if a couple exchange a holy thread, then it's considered a wedding. Prerna shows the thread to everyone. Prerna says to Komolika that it was the time when two souls unite and they heartily accepted each other and calls Komolika's wedding as a pretence like her.
Nivedita interrupts and asks Prerna to leave. Prerna says that she is the real daughter-in-law of this house and she is Anurag's wife not Komolika. Prerna says that henceforth, she is going to stay here with Anurag and is not going to go anywhere. Prerna thanks the priest that because of him everyone got to know the truth and the priest leaves.
Mohini says that no one will believe her so she should leave. Mishka thinks that for the first time, someone has defeated her sister. Prerna asks the priest who has come to perform the veneration ritual also to go and offer the offertory to the Goddess.
Nivedita asks the priest to stop, but he says that he doesn't think that any veneration should be performed here now and the girl was right as it was the day which came once in a 15 years and if a girl and a boy exchange even a single thread, then their marriage is considered valid.
The priest says to Mohini that she has conducted Anurag and Komolika's marriage with all the rituals and customs, but there's a problem that her son is already married.
Precap: Someone informs Anurag that Komolika is very dangerous so please take care of himself. He asks Anurag to keep Prerna away from Komolika. Prerna says to Komolika that she will achieve whatever she want. Anurag is looking at both of them. Komolika is in huge anger!