The episode begins with Prerna and Anurag comes to hug Veena and both of them do it at the same time. Veena blesses both of them together and Mr. Bajaj gets angry to see it. Mr. Bajaj seeks blessings from Veena. Shekhar questions how is he now? (Check: Kasautii Zindagii Kay 2 Written Updates.)
Mr. Bajaj says that Durga Pooja is special now and he is participating in the dance with Mr. Basu. Anurag is talking with Prerna and Mr. Bajaj comes to them. Mr. Bajaj says that he will dance with Anurag. Anurag says that he has not worn a comfortable outfit as it can catch fire easily. Mr. Bajaj says that he knows everything about the dance.
Prerna recalls when she hugged her mother together with Anurag. Prerna questions the Goddess whether she can get what her heart wants! Mr. Bajaj says to Mohini that she has called the dancers. Mohini says that the dancers have come. Mr. Bajaj looks at the dancers which are his hired goons.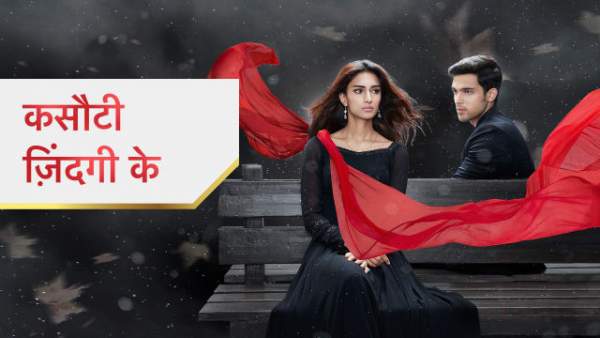 Anurag is finding Prerna everywhere and comes to her when she is standing in front of the Goddess. Prerna feels that she can't face Anurag as she has guilt for leaving him like this. Prerna prays to the Goddess to help her give a solution. Anurag comes to Prerna and asks not to stop her.
Anurag says that when they are not able to choose right or wrong, then they should leave everything on the Goddess. Prerna questions what if Goddess didn't give a solution? Anurag says that she doesn't need to speak anything as he can understand her when she is silent also.
Goddess Durga's Chunnari flew up on both of them as it happened before also. Anurag says that the Goddess also wants them to be together. Prerna starts crying and Anurag wipes out her tears. Anurag questions until when he should wipe her tears since he wants to make her happy!
Anurag says that if she is happy, then he is also happy to see her. Anurag says that they should understand that they are alive for each other. Both of them recall their memories with each other. Prerna recalls when Mr. Bajaj trusted her for his loyalty and gets out of the Chunnari.
Prerna was leaving and Anurag questions why she is running again? Anurag questions whether he has to wait for life till the whole life? Prerna was leaving and Mr. Bajaj comes in front of her. Prerna didn't stop and left from there.
Mr. Bajaj asks Anurag to stop his acts. Anurag says that he will not stop like this. Mr. Bajaj says that he has to make the things correct and he is warning him not to push him. Anurag says that he wants his anger to come out and Mr. Bajaj starts laughing.
Tanvi says to Masi that Rishab wants her to patch-up with Veena aunty. Masi says that she has to do it now as Rishab has started loving Prerna and he can't sacrifice Prerna anyhow. Masi goes to Veena to talk with her and Prerna's family.
Tanvi looks at Prerna crying and Mr. Bajaj comes to her. Mr. Bajaj asks Prerna to fix his button and Prerna was about to fall but Anurag holds her. Mr. Bajaj leaves with Prerna.
Mohini announces the Galuchi dance performance. Everyone starts dancing. Shivani asks Anurag to join Prerna. Mr. Bajaj thinks that he will give answers to Shivani also as she is on Anurag's side.
Precap: Mr. Bajaj and Anurag start dancing. Mr. Bajaj's dancers burn Mr. Bajaj's outfit. Mr. Bajaj shouts at the dancers and questions who had sent them? The goons speak Anurag's name in front of Prerna!