The episode begins with Mr. Bajaj says to Anurag that he will have to bear what he has done with him in front of Prerna's family. Anurag says that he is happy to see his real face. Mr. Bajaj says that his heart will break again as he is the villain of his story. Mr. Bajaj says that Prerna will leave the country with him soon. (Check: Kasautii Zindagii Kay 2 Written Updates.)
Anurag says that Goddess Durga comes to end bad vibes and no one possesses bad vibes other than Mr. Bajaj himself. Prerna looks at them and calls Mr. Bajaj to leave. Mr. Bajaj thinks that he should not have told about his meeting with Prerna's family to Anurag. Prerna comes into the room and says that whatever Anurag did was not good.
Mr. Bajaj says that he can understand as Anurag knows her family from an early time. Prerna says that she also feels like her family loves Anurag more than her. Mr. Bajaj asks Prerna to sleep as he has some work and leaves from the room. Shivani says to Anurag that he should not have talked so openly in his house.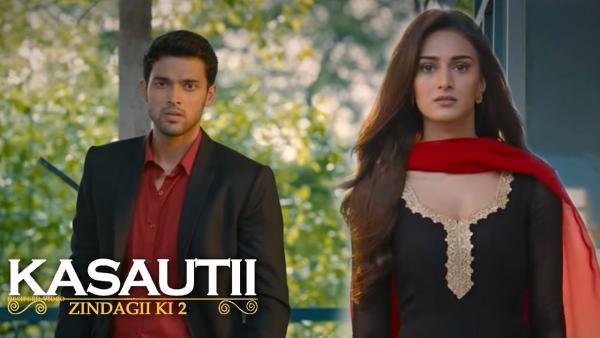 Shivani says that he will soon reveal Mr. Bajaj's face in front of Prerna. Anurag asks Veena and everyone to come to their house for the Goddess Durga's Pooja. Mr. Bajaj thinks that he didn't do anything right with Prerna. Mr. Bajaj thinks that he has started feeling something for Prerna. He thinks that he has to remove Anurag from Prerna's heart.
Anurag comes back to the house and looks at Mr. Bajaj. Anurag questions Mr. Bajaj what has happened to him? Anurag says that he thought to give the company to him. Mr. Bajaj says that he gets what he wants! Mr. Bajaj says that he didn't like what he did at Prerna's house. Mr. Bajaj says to Anurag that Prerna is his wife and he should back-off.
Anurag says that he likes his insecure face. Anurag says that he will always interfere until he gets away from Prerna's life. Mr. Bajaj warns Anurag says that he should not create any disturbance in his life. Anurag says to Mr. Bajaj that love is not a competition. Mr. Bajaj says that he has learned to get what he wants by hook or by crook!
Mohini is busy in preparing for Goddess Durga Ma's Pooja. Moloy's brother comes to the house. Mohini greets them and asks the servant to serve them food. Mohini treats Moloy's brother and his wife weirdly. Masi looks at them.
Anurag and Prerna were coming and gets stuck on each other's way. Anurag says that they are going to bring Goddess Durga. Prerna says that she will be at home for the preparations. Prerna leaves from their saying that she is busy. Prerna's Dupatta gets stuck in Anurag's watch and both of them look at each other.
Anurag removes her Dupatta and she leaves from there. Prerna was about to get hit by Mr. Bajaj but stops. Mr. Bajaj questions whether she is fine? Prerna says that she is fine. Mr. Bajaj compliments her outfit and she thanks him.
Anurag brings Goddess Durga with Anupam. Anupam's leg gets hit and Prerna holds Goddess Durga with Anurag. Both of them recalls their old memory when this moment happened before. Anurag says to Prerna that he didn't need to show any proof as Durga Maa gave it.
Precap: Prerna and Anurag perform Durga Maa Pooja and Mr. Bajaj gets shocked to see them together. Anurag asks Prerna to be with him and she hugs him!