The episode begins with Sandhya says to Prem that he should eat and play in his room. Sandhya says that she will come to him. Sandhya says that many guests have come so she has to go. Sandhya closes the door and gets emotional. (Check: Kawach Written Updates.)
Sandhya comes downstairs to Aastha's birthday party. Aastha shows her Tatoo to her grandfather. Aastha says that magic will happen in a few minutes. Akhil greets Aastha for her birthday. Akhil says to Sandhya that Aji was not well so everyone is with her. Ankit question Sandhya about her sad face.
Sandhya was about to talk with him, but Angad's father calls Ankit. Aastha is finding someone and looking at her watch. Aastha goes upstairs to find Sakshi. Buaji asks the servant to put the injection on Jolly as he is screaming and leaves from there. Jolly puts the injection on the servant.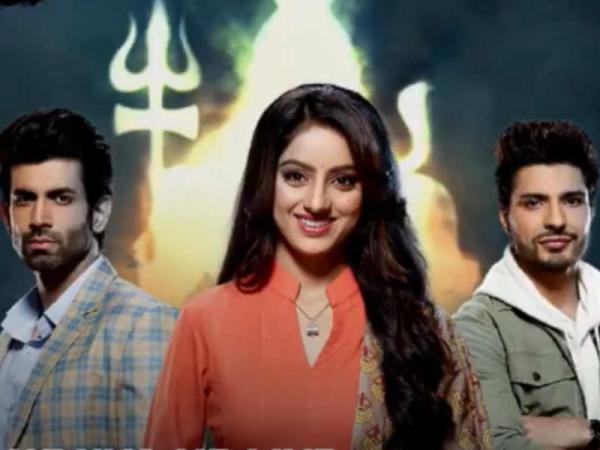 Aastha was about to go upstairs. Ruhi questions her why she is going upstairs? Aastha says that she wants to go to the washroom. Aastha comes to the storeroom and starts finding Sakshi. Sakshi also comes there. Sakshi says that she will lock the door and Aastha should stay here. Sakshi says that her parents will come together after finding her.
Aastha gets ready to stay in the room. Sakshi covers the gate with fire and smoke starts entering in the room so that Aastha gets unconscious. Rekha enters the house by hiding from the guard. Rekha starts finding Sandhya as she has drawn in her sketch. Sandhya is talking on the phone about Aji's health.
Rekha matches her face to the sketch. Rekha gets stuck as children start playing around her and she can't see Sandhya. She thinks to find the small girl. Some kids enter inside Prem's room. They start pulling Prem outside to play with them, but Prem pushes them away. Kids get afraid after hearing Prem's voice and start screaming.
Prem comes outside of the room. The kids inform a lady about a small kid scaring them. The ladies take Prem down asking about his mother. Prem bites on the lady's hand. The guests leave the party along with their kids. Malini calls Aastha but she is not there. Aastha gets unconscious and falls on the ground.
Rekha goes inside Jolly's room and Jolly snatches her. Sandhya comes into the room and wakes up the servant to help the lady. The servant puts an injection on Jolly. Rekha asks Sandhya to save her daughter or else she will die. Rekha shows her the sketch.
Sandhya goes to the storeroom and gets shocked to see Aastha lying unconscious. Sandhya takes her outside, but Aastha doesn't wake up. Angad and everyone come over there. Sandhya says that Aastha was locked in the storeroom and it was firing from outside.
Angad tries to wake up Aastha and Sandhya hugs her. Sakshi gets angry that Aastha got saved. Prem says to Sakshi that she should not kill Aastha. Shobha question Aastha how did she go to the storeroom? Sakshi stands behind Sandhya and Aastha points at her that she asked her to go into the storeroom.
Angad question Aastha whether Sandhya asks her to go in the storeroom. Aastha says that she was Prem's special friend who asked her to go inside the storeroom. The lights turn off and Aastha gets scared. Everyone tries to open the torch and burn the candles but it didn't work. The light turns on and Aastha is missing.
Sandhya goes to Prem's room and he is also missing. Sandhya informs everyone that Prem is also missing from his room. Jolly says that she has taken them. Sakshi has kept Aastha and Prem in a cave.
Sandhya recalls the girl who informed her about Aastha. Sandhya gets shocked to see her standing in front of her. Sandhya shouts at her that where are her children? Rekha says that she has come to save her children. Angad questions about her identity. Rekha says that her hands draw a sketch which happens in reality.
Rekha says that her hands made one sketch of their house. Rekha says that a bad spirit is in their house. Rekha shows them the sketched which was drawn from her hand. Everyone gets shocked to see Sakshi in the sketch.
Aastha asks Prem to leave from the place as Sakshi is not there. Prem denies her not to leave, but Aastha leaves his hand. A snake comes in front of Aastha and she runs from another side. Sakshi comes over there with a snake. Aastha runs to Prem and sits with him.
Sandhya says that she is her twin sister Sakshi who has died. Sandhya says that Aastha also pointed towards Sakshi and they didn't realize it earlier. Angad says that Sakshi has taken Prem from the last 7 years. Sandhya says that now Sakshi has returned with Prem. Angad apologizes from Sandhya about Prem.
Sandhya asks Rekha to help her. Rekha says that she can control Sakshi's spirit and invite Sakshi in her body. Angad denies that it will be dangerous for Rekha. Sandhya asks Angad to let Rekha do what she is saying!
Rekha conducts all the things and sits to call Sakshi in her body. Rekha invites Sakshi in her body. Sakshi denies, but Rekha invites her again.
Sakshi and all the snakes disappear from the cave. Prem asks Aastha to run, but she denies as she is scared. Prem grabs Aastha's hand to run from there.
Sakshi enters Rekha's body.
Precap: Sakshi enters Rekha's body and holds Sandhya's neck. Sakshi says to Sandhya that she will snatch her daughter and everything from her as she has also snatched her son. Angad asks Akhil to break the stone ad Rekha told them which will make Sakshi leave. Prem and Aastha come to the temple. Rekha draws a completely black sketch and can't understand anything from it. Prem gets scared as Sakshi has come in Sandhya!