The episode begins with Shobha crying for her baby. Aastha consoles her that the baby will return soon. Sandhya comes over there with everyone and Ankit brings the baby with him. Shobha gets happy to see her baby. Aastha says to Shobha that her baby is very brave. Sandhya and Angad get happy to defeat Bhau's witch. (Check: Kawach Written Updates.)
Shobha cries that she lost hope that she won't be able to see her baby again. Sandhya says that she feels bad for the witch also as she became like this when her baby got detached from her. Sandhya says that they will conduct a prayer for the spirits also. Sandhya says that they should go to the temple to rescue Prem from Bhau's plan forever.
Bhau thinks that he won't let Sandhya go to the temple and reveal his secret. Bhau says that he will get what he wants as he is very powerful. Rekha and everyone draw the Suraksha Kawach again. Rekha asks everyone to stay careful and not let any unknown person enter the house.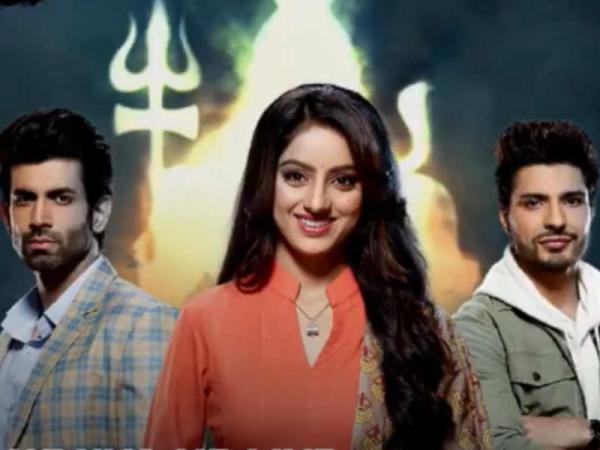 Angad leaves with Kartik, Sandhya, Prem, and Rekha. Bhau sends Rasika (Bhau's spirit) to attack everyone in the house. Bhau asks her to do something like this that someone from the house takes her inside and then she can do all her work.
Bhau moves to stop Sandhya from going to the temple. Rekha since the coming of Bhau with them. All of them start feeling cold and Sandhya asks Angad to shut down the AC. Angad says that the fog appears in the mirror. Rekha says that Bhau is doing all this, but he should drive without stopping. Prem uses his powers to remove the fog.
Rasika comes outside the house in a normal girl avatar and covers her face with some scratches. Rasika begs Ruhi to help her as some goons are behind her. Ruhi asks her to come inside the house, but Ankit and Akhil deny her. Rasika starts acting like falling unconscious and falls on the floor. Ruhi asks Akhil to take her inside.
Rasika gets happy that she is successful in her mission. Angad is not able to drive the car. Angad goes outside to check the car with Kartik. Angad checks the engine and searches to find some water. Kartik looks at a place and thinks to check over there. Kartik says that he will bring the water and Sandhya gives him the Lord Shiv's idol.
Buaji and Usha say to Ankit that they should not have taken anyone inside the house. Ruhi says that she got unconscious outside the house. Rasika says that she will leave, but falls. Ruhi says that she can rest here. Ruhi takes Rasika to the washroom. Usha thinks to test her with Ganga Jal and Lord Shiv's idol.
Bhau comes to attack Kartik and Lord Shiv's idol falls from his hands. Kartik shouts for Sandhya to help. Angad and Sandhya get worried about Kartik. Kartik comes over there and says that he didn't hear any noise. Sandhya says to Kartik that they should leave now. Kartik says that he left Lord Shiv's idol in the place.
Kartik recalls when he hit came into Kartik's avatar to go with Sandhya. Rekha says to Sandhya that Bhau is sitting with them. Sandhya looks at a flame and Kartik asks them to leave. Angad drives from there and Kartik comes shouting their name. Kartik holds the idol and falls over there.
Rekha says to Sandhya that Bhau is with them. Rasika compliments Ruhi about her looks. Rasika touches Ruhi's hair and grabs her neck. Rasika turns Ruhi into anklets and disappears from there. Akhil and Ankit come over there and touch the anklets. They get to know that the girl has captured Ruhi in the anklets.
Sandhya, Rekha, and Angad come to the temple with Prem. Sandhya questions about Kartik and Angad says that he is parking the car. They all talk with the priest over there to know about the truth behind Maha Shivratri's night. Angad questions about Bhau from the priest and the priest replies that he didn't hear the name before.
Sandhya questions the priest whether he knows a girl who came here on Maha Shivratri and looked at her partner's face. The priest says that he has heard about it from people. The priest says that they all are doubting the religious things so they should leave for the temple. Rekha says that they can talk with an old spirit to know everything.
Ankit and Akhil inform everyone about Ruhi's condition. Rasika comes over there in her real avatar. Buaji questions what did she do to her daughter? Rasika starts laughing at everyone. Usha asks everyone to get inside the Mandir but they are not able to do it. Malini says that these anklets are blocking their way.
Rasika says that she will not let them go inside the Mandir and disappears from there. Rekha informs Sandhya that there are many spirits in this area. Rekha invites the oldest spirit to come in front of them. Rekha informs them that the lady's spirit has come.
Rekha question the spirit about her past? The lady says that she is the oldest spirit and she knows why they have come here! Angad questions about Bhau's truth? The lady says that she wants to get free from this spirit and want Ganga Jal to get free. Angad goes to bring Ganga Jal and Sandhya questions about Bhau's reality.
The lady looks at Kartik and says that she wants Ganga Jal first. Some hands start coming out of the land. One hand holds Sandhya's leg and they all get scared. Prem uses his power to release Sandhya. Sandhya goes to help Rekha and the lady stops Sandhya. Prem hits the lady behind with his powers.
Precap: Kartik says to Sandhya that he needs to take Prem to a safe place. Angad denies that Kartik is with him as he is Bhau!